ROASTED CHICKEN WITH CHICKPEA CURRY
Tuna poke nachos with @cookwithdanaa
Makes: 4 servings
Prep time: 15 minutes
Cook time: 30-45 minutes
Total time: 45-60 minutes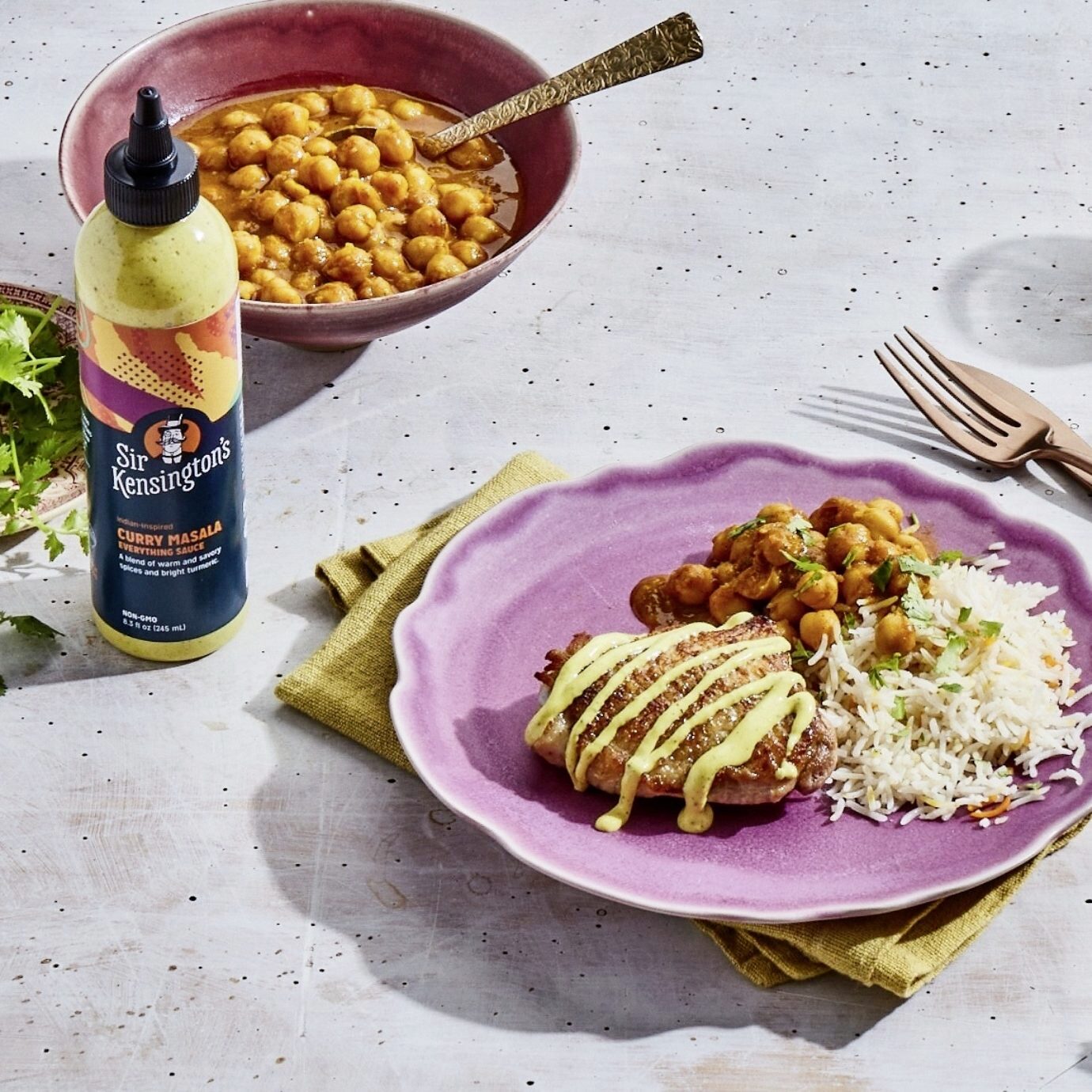 Ingredients:

4 boneless chicken breasts or thighs (skin on)
1 teaspoon garlic powder
1 teaspoon onion powder
1 teaspoon salt
½ teaspoon black pepper
½ teaspoon paprika
4 tablespoons and 2 tablespoons olive oil, separated
½ onion, diced
2-4 cloves of garlic, minced
1 teaspoon ground coriander
1 teaspoon ground cumin
1 tablespoon curry powder
2 cans of chickpeas, drained and rinsed
1 28 ounce can crushed tomatoes
Sir Kensington's Curry Masala Everything Sauce
2 cups cooked fragrant rice (Jasmine or Basmati)
½ bunch fresh cilantro, chopped

Instructions:

Preheat oven to 425F.
Dry chicken with paper towels until completely dry. Season liberally with spices.
Heat 4 tablespoons olive oil in an oven safe pan over medium high heat. When the pan is hot, add chicken skin side down and let cook, undisturbed, until the skin is golden brown and crispy, approximately 5-7 minutes.
Flip chicken and transfer the pan to the oven and let cook for 10-15 minutes, or until a thermometer inserted into the thickest part reads 165F. When fully cooked, remove pan from oven and let chicken rest.
While the chicken is baking, get started on the curry by heating the remaining olive oil in a medium sized pot over medium heat. Add diced onion and cook for 5-10 minutes until soft and translucent. Add garlic, coriander, cumin, and curry powder and cook for an additional 1-2 minutes.
Add drained chickpeas and crushed tomatoes and simmer, stirring frequently, until the sauce reaches desired thickness, 10-20 minutes.
When ready to eat, transfer chicken to a plate and top with Sir Kensington's Curry Masala Everything Sauce and serve with chickpea curry and rice. Garnish with chopped cilantro.