ZUCCHINI FRIES WITH GREEN GODDESS DIPPING SAUCE
Tuna poke nachos with @cookwithdanaa
Makes: 4 servings
Prep time: 30 minutes + 30 minutes chill time
Cook time: 15 minutes
Total time: 45 minutes + 30 minutes chill time
Recipe Notes:
Make it Gluten Free: use a 1:1 gluten-free flour blend in place of the flour and use gluten-free Panko breadcrumbs.


Make it Vegetarian: leave the anchovy out of the dipping sauce.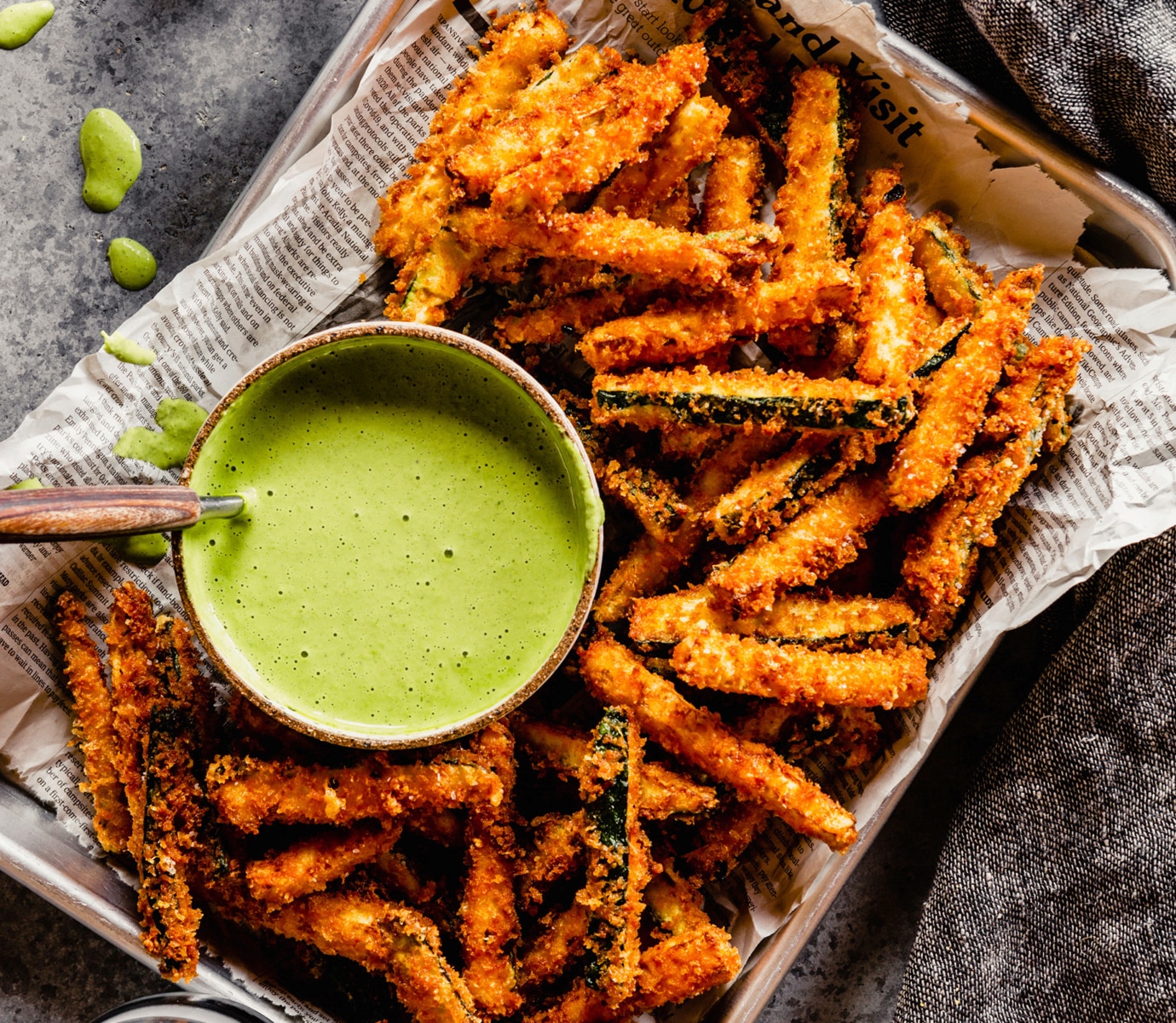 Ingredients:

For the Fries

1 cup grated Parmesan
1 cup Panko breadcrumbs
¾ teaspoon kosher salt
½ teaspoon red pepper flakes
2 large eggs
¼ cup all-purpose flour or 1:1 gluten-free flour blend
2 medium zucchini (1 pound), cut into 4x½-inch-sticks
Vegetable oil

For the Green Goddess Dipping Sauce

½ cup packed fresh basil
⅓ cup packed fresh parsley
½ cup Sir Kensington's Avocado Oil Mayo
¼ cup buttermilk
2 scallions, chopped
1 anchovy fillet or ½ teaspoon anchovy paste
1 small clove garlic, chopped
1 tablespoon fresh lemon juice
¼ teaspoon kosher salt
Black pepper to taste

Instructions:

Line a baking sheet with a wire rack. Line a second baking sheet with paper towels.

Combine Parmesan, panko, salt, and pepper flakes in a shallow dish. Whisk eggs in a second shallow dish.

In a large bowl, toss zucchini sticks with flour to coat, letting excess flour drop to bottom of bowl. Dip zucchini sticks in eggs, allowing excess to drip off, then coat in Parmesan mixture, pressing to adhere.

Transfer zucchini sticks to wire rack-lined baking sheet; chill 30 minutes.

Meanwhile, combine basil, parsley, Avocado Oil Mayonnaise, buttermilk, scallions, anchovy, garlic, lemon juice, and ¼ teaspoon salt in a blender; purée until smooth. Season sauce with salt and black pepper to taste.

Heat 2 inches oil in a large skillet over medium to 350°F. Fry zucchini sticks, in batches, until golden brown, 2–3 minutes per batch, turning sticks as needed to evening brown. Transfer fries to paper towel-lined baking sheet and season with kosher salt.

Serve Zucchini Fries with Green Goddess Dipping Sauce.