VEGETARIAN CHILI CHEESE FRIES
Tuna poke nachos with @cookwithdanaa
Makes: 4-6 servings
Prep time: 20 minutes
Cook time: 20 minutes
Total time: 40 minutes
Recipe Note: Vegetarian, Gluten Free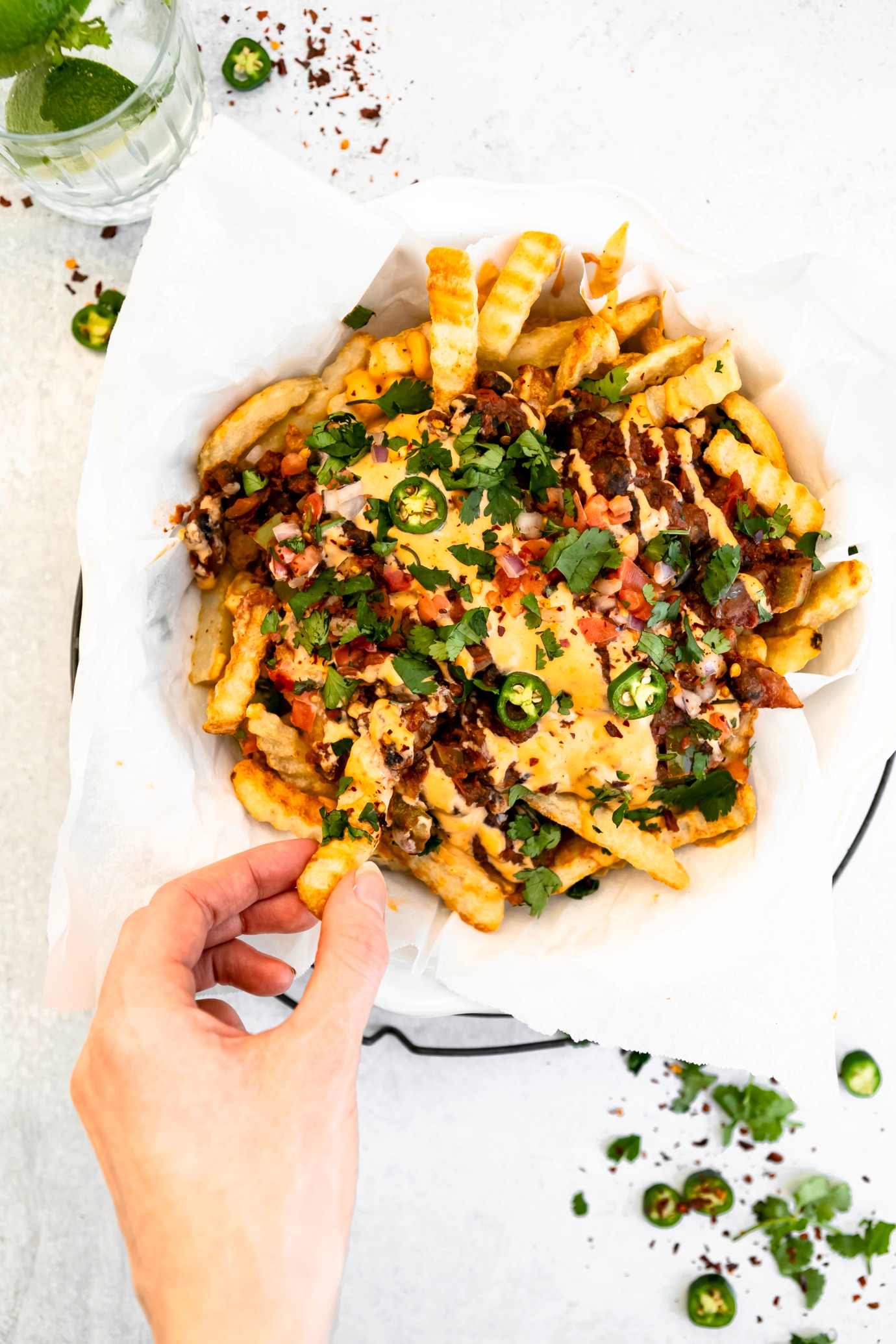 Ingredients:

Chili

20 ounces frozen fries (waffle, crinkle cut, any kind!)
½ cup red onion, diced
2 tablespoons olive oil
2 teaspoons minced garlic (about 4 cloves)
1 green bell pepper, diced
15 ounce can crushed tomatoes
1 teaspoon maple syrup or dark brown sugar
1 teaspoon apple cider vinegar
½ teaspoon cumin
½ teaspoon ground coriander
½ teaspoon paprika
3/4 teaspoon chili powder
15 ounce can black beans, drained and rinsed
½ teaspoon salt

Cheese Sauce

¾ cup raw cashews, soaked overnight or in boiling water for 30 minutes, then drained
3 tablespoons Sir Kensington's Avocado Oil Mayo
¾ cup plain/unsweetened non-dairy milk
1 clove garlic
½ teaspoon salt
3/4 cup cheddar or Colby jack cheese shreds, divided
1 tablespoon tomato paste
¼ teaspoon paprika

Instructions:

Preheat the oven according to package instructions on your fries.
Dice the onion and add to a large pot with the olive oil. Sauté over medium heat for about 5 minute or until it begins to look translucent.
Add in the garlic and diced bell pepper and sauté an additional 5-10 minutes.
Add in all remaining ingredients and let simmer over low heat for 15 minutes.
Meanwhile, cook your fries according to package instructions. It helps to add a few extra minutes since they can lose their crisp once all the toppings are added.
While the fries are cooking, add all ingredients for the cheese sauce to a blender, but only ½ cup of cheese.
Blend until smooth, add a few more tablespoons of milk at a time as needed to blend.
Transfer to a pot on the stove and heat over very low heat and whisk in the final ¼ cup of cheese. Stir frequently until melted. Turn off the heat and set aside.
Optional: add 1 cup of the chili to a blender and pulse until you get a somewhat meaty texture. This isn't necessary, but it deepens the flavors and gives a more classic chili texture. Transfer back to the pot and stir. Taste and adjust flavors as desired, or a bit of cayenne pepper for spice.
Once your fries are done, transfer to a dish or skillet (a pie plate works well!) and ladle on the chili. Drizzle on top the cheese sauce and enjoy hot!