Tuna poke nachos with @cookwithdanaa
Servings: 6 burgers
Recipe Note: Vegetarian Friendly, Vegan Friendly, Dairy Free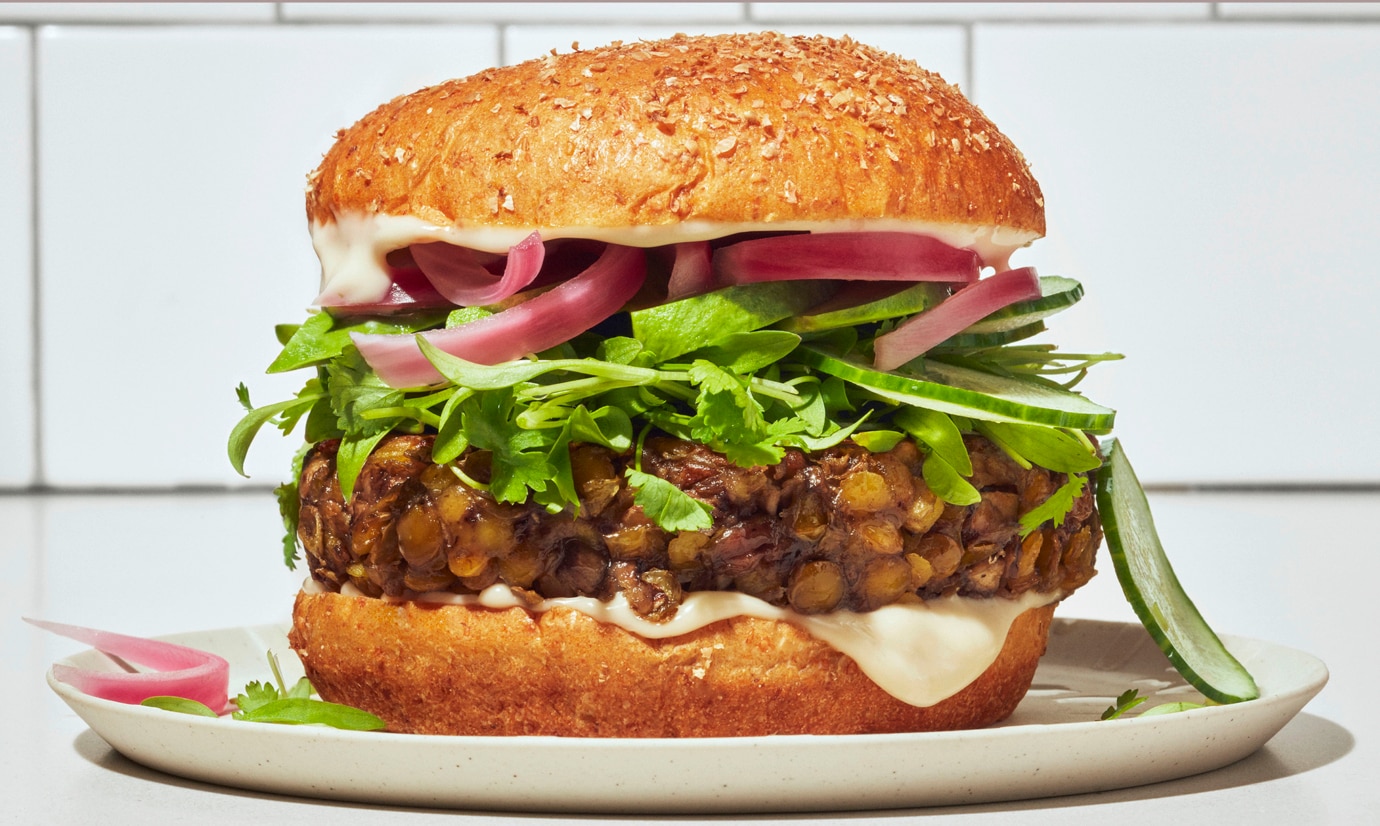 Ingredients:

1 cup dried lentils (green or brown)
4 oz. mushrooms (crimini or similar), finely chopped
¼ tsp smoked paprika
2 tbsp olive oil
¼ cup all purpose flour
1 red onion, thinly sliced
½ cup apple cider vinegar
1 ½ teaspoons salt
1 cup water
6 Whole wheat burger buns, sliced
Cucumber, thinly sliced
Cilantro, microgreens or other green
Salt and pepper, to taste
Recommended Burger Toppers: Sir Kensington's Classic Vegan Mayo or Classic Mayonnaise

Instructions:

Combine sliced red onions, apple cider vinegar, salt, and water in a bowl and let sit for at least 1 hour.

Cook lentils until just tender, according to package instructions. (Rinse lentils before cooking. Place 1 cup lentils in a large pot with 4 cups water and ½ tsp salt. Bring to a boil, then reduce to a simmer, cover and cook until tender, about 20-30 minutes; drain well.)
Once cooked, spread lentils evenly on a sheet pan and cool for 10-15 minutes.
Once cooled, add lentils to a mixing bowl with chopped mushrooms, smoked paprika and olive oil and mash the mixture, leaving some bigger pieces.
Add flour and continue to stir until the mixture holds together, and then form into 6 patties and season with salt and pepper.
Working in batches, cook burger patties in a non stick pan with olive oil until well browned on both sides.
To build the burger, generously spread Sir Kensington's Classic Vegan Mayo or Classic Mayonnaise on both the top and bottom bun. Top burger with sliced cucumbers, greens and pickled red onions.