Tuna poke nachos with @cookwithdanaa
Makes: 4 servings
Prep time: 5 minutes
Cook time: 40 minutes
Total time: 45 minutes
Recipe note: Gluten Free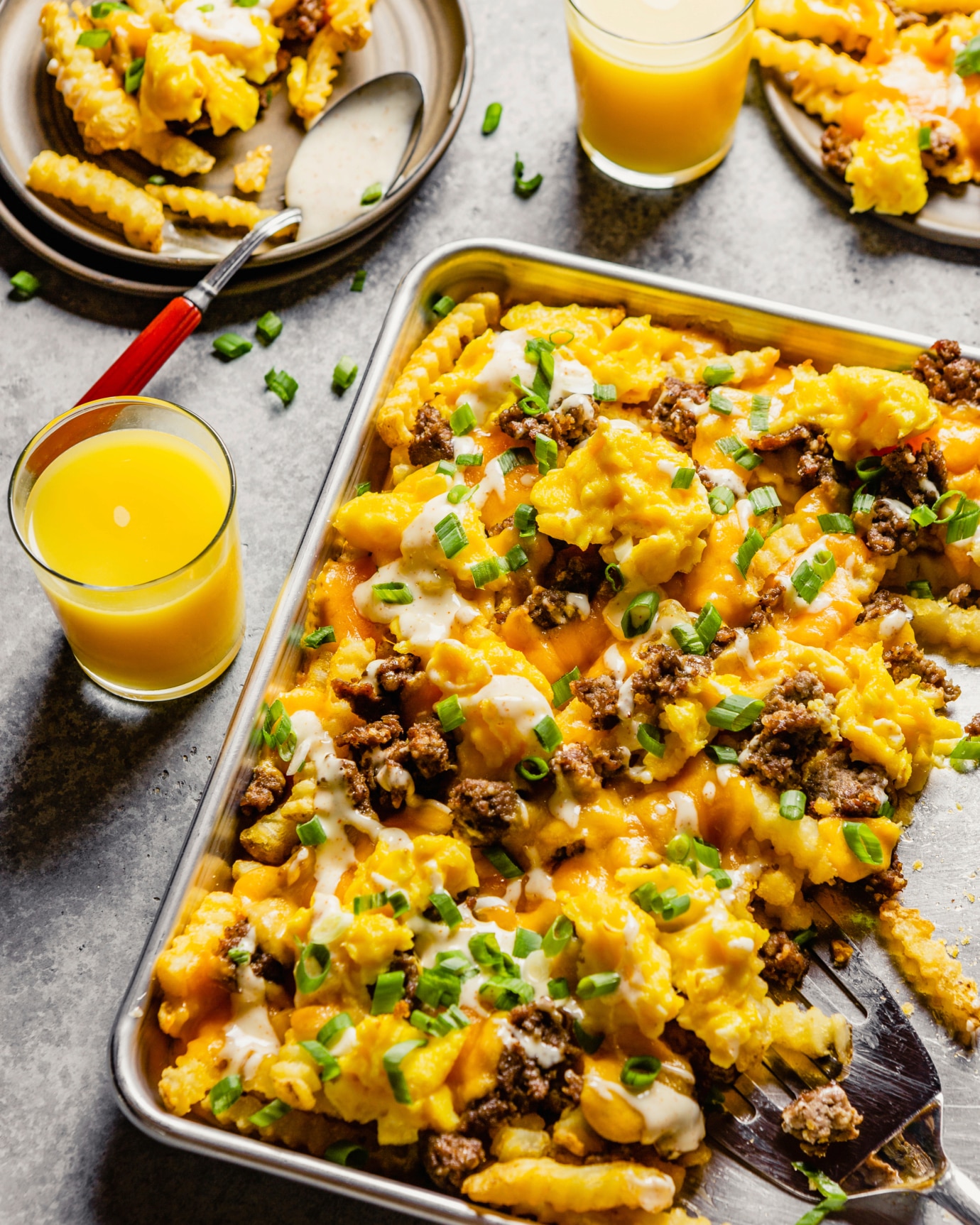 Ingredients:

1 (28-oz.) package frozen crinkle-cut French fries
8 ounces breakfast sausage
4 large eggs
Kosher salt and black pepper
1 tablespoon butter
½ cup Sir Kensington's Classic Mayonnaise
1 tablespoons fresh lemon juice
⅛ teaspoon cayenne pepper
2 cups Cheddar cheese curds (6 oz.)
½ cup thinly sliced scallions
Hot sauce for serving, optional

Instructions:

Heat oven to 425˚F.
Arrange French fries in a single layer on a baking sheet. Bake fries until browned and crispy, 25–30 minutes.

In a large nonstick skillet, cook sausage over medium heat, breaking up into small pieces, until cooked through. Transfer cooked sausage to a paper towel lined plate. Wipe skillet clean with a paper towel. Heat skillet over medium for 3 minutes.
Meanwhile, beat eggs together until smooth; season with salt and pepper. Add butter to skillet and swirl until melted. Remove skillet from heat and pour eggs into hot skillet. Immediately pull a rubber spatula through the eggs to create ribbons. Continue gently pulling the eggs around the pan until mostly set, placing skillet over low heat as needed.
For the "hollandaise," whisk together mayonnaise, lemon juice and cayenne; set aside.
To assemble, push fries to one half of the baking sheet then layer sausage, eggs, and cheese curds over fries. Bake poutine until cheese curds are melted, about 10 minutes, rotating pan halfway through.
Drizzle poutine with "hollandaise" and sprinkle with scallions. Serve immediately with hot sauce.