ROSEMARY PARMESAN FRIES WITH GARLIC DIPPING SAUCE
Tuna poke nachos with @cookwithdanaa
Makes: 4 servings
Prep time: 10 minutes
Cook time: 20 minutes
Total time: 30 minutes
Recipe Note: Gluten Free
Make It Dairy Free: use your favorite dairy free parmesan or cashew parmesan.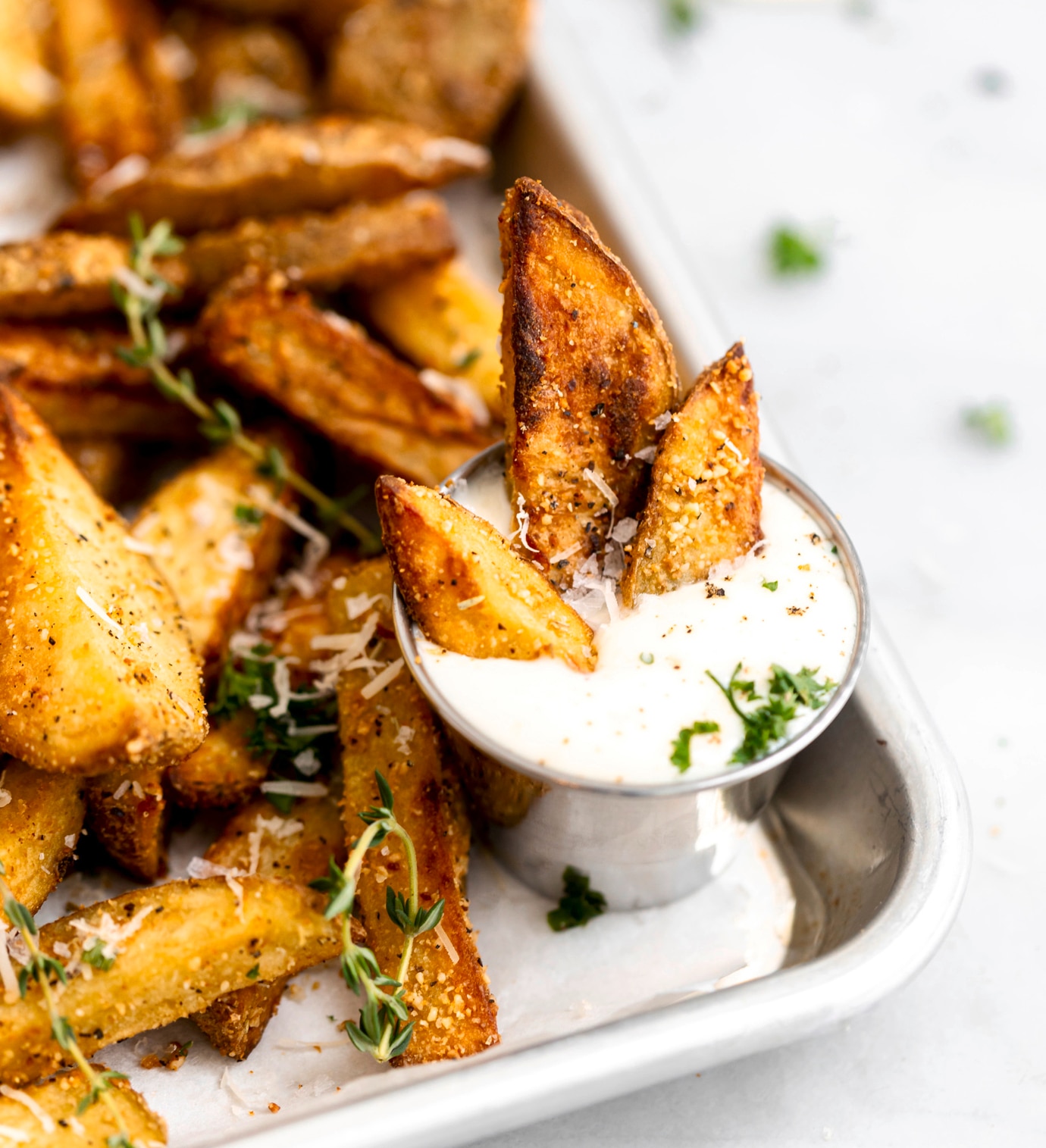 Ingredients:

Sauce

½ cup Sir Kensington's Classic Mayonnaise
4 cloves garlic, finely minced
1/2 teaspoon salt
¼ teaspoon black pepper
1 teaspoon olive oil
1 tablespoon lemon juice

Fries

4 medium yukon gold/yellow potatoes
3 tablespoons olive oil
1 tablespoon finely minced garlic
½ cup parmesan
½ teaspoon salt
¼ teaspoon black pepper
2 tablespoons fresh minced rosemary or 2 teaspoons dried

Instructions:
Whisk together all ingredients for the sauce until smooth. Refrigerate for about 30 minutes while the fries bake.
Preheat the oven to 400 degrees (see below for air fryer instructions). Place a wire rack over a baking sheet. You can place them directly on the baking sheet, but using a wire rack will help them get extra crispy!
Scrub the potatoes and slice each into about 6 wedges, each ½ inch thick. Transfer to a large bowl and drizzle with the olive oil. Toss until well combined, then toss in the minced garlic.
Add in the parmesan, salt, pepper, and rosemary. Toss until each fry is well coated.
Bake for 25-30 minutes or until the potatoes are cooked through and golden brown on the outside. If you like them really crispy, bake for a few extra minutes.
Serve warm with the garlic dipping sauce and enjoy!

To make in an air fryer, follow all of the same instructions, but bake at 400 degrees Fahrenheit for 20 minutes or until golden and crispy, tossing the basket halfway to ensure even cooking. Some air fryers require preheating, some do not, check with the instruction manual before starting!