RECIPE: LAMB CLUB SANDWICH
The club is quite an iconic sando, but how many of us can say we've confidently made one at home?
The club is quite an iconic sando, but how many of us can say we've confidently made one at home?
Well you're in luck because #SKCookbookClub found the ultimate recipe from 'Kindness and Salt', the first cookbook by restaurateurs Ryan Angulo and Doug Crowell, which takes classic bistro favorites and transforms them into easy-to-make masterpieces. This version is cranked up a couple notches by featuring roast lamb and a herb mayo mix.

Angulo and Crowell are the owners behind Brooklyn's very own Buttermilk Channel and French Louie. They've compiled their expertise into 275 pages of pure magic, showcasing that every great meal is based on great hospitality and all it takes is simple cooking with standout ingredients- we couldn't agree more!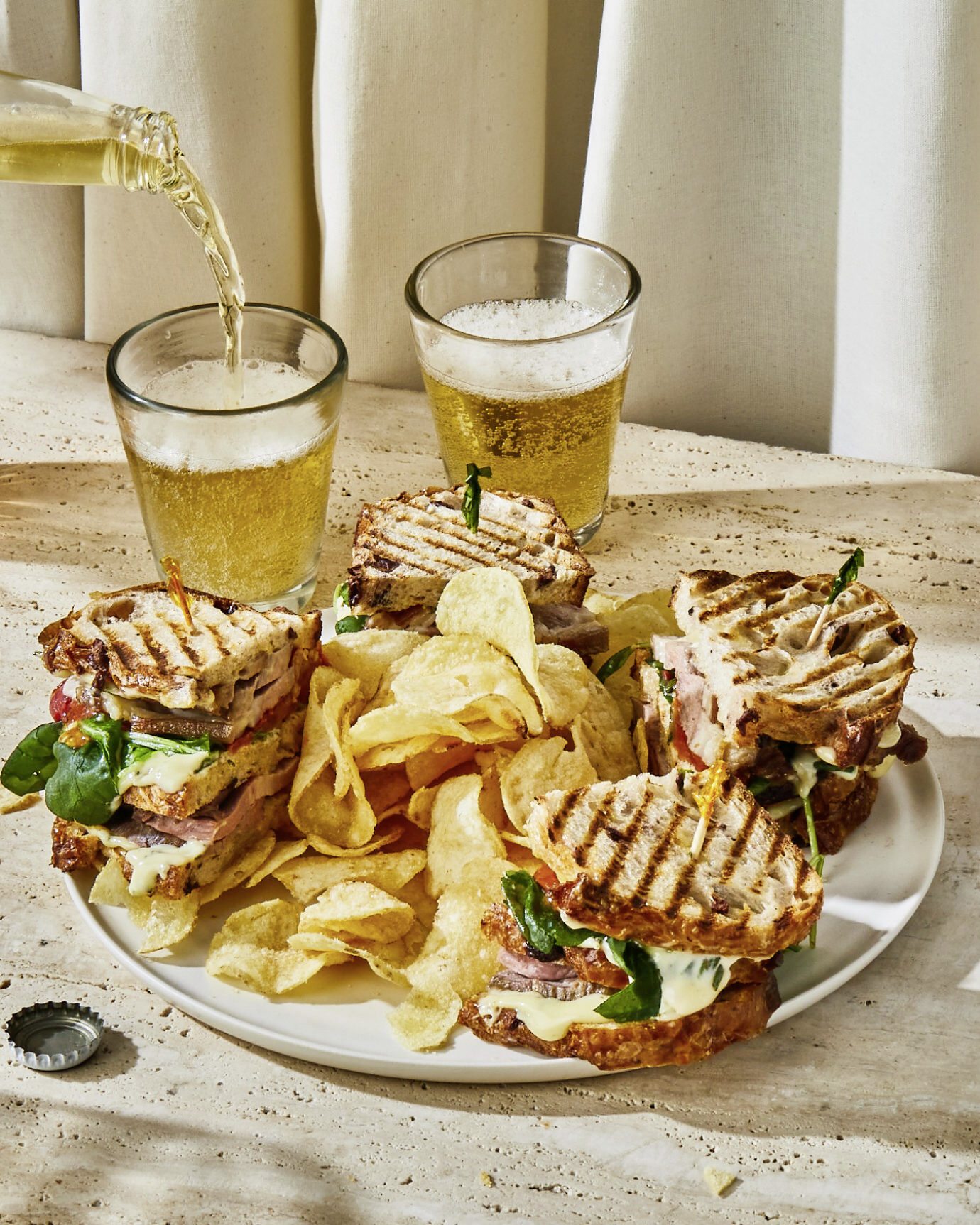 Adapted from recipe on page 154

Serves 4

Ingredients:

1 (2 pound) boneless lamb leg
Extra-virgin olive oil
Fine sea salt
16 oil-packed anchovy fillets
4 garlic cloves, peeled
1 lamb belly (aka lamb breast) 1-1¼ pounds
1 loaf olive bread
2 bunches arugula
1 lemon
2 tablespoons chopped fresh rosemary
8 oven-dried tomatoes
1 cup Sir Kensington's Classic Mayo
1-2 tablespoons Sir Kensington's Dijon Mustard

Instructions:

Preheat your oven to 450°F.

Place the lamb leg on a rack set in a roasting pan. Rub it all over with olive oil and season liberally with salt. Using a paring Knife, make 16 shallow incisions all over the lamb. Cut the garlic cloves into quarters and tuck an anchovy filet and piece of garlic into each pocket. Roast the lamb for 25 minutes, then lower the oven temp to 325°F and continue to cook for another 25 minutes, or until the internal temp of the lamb reaches 125°F. Remove the pan from the oven and transfer the lamb to a cutting board to rest. Pour the pan drippings into a bowl. Turn the oven up to 400°F.

Rub the lamb belly with olive oil and salt and place it on the same rack in the roasting pan. Roast until brown and crispy, about 20 minutes. Pour the pan drippings into the same bowl with the drippings from the leg.

Cut 12 thick slices of olive bread. Brush the bread with olive oil and toast in a panini press, grill pan, or your oven. In a medium bowl, toss the arugula with a squeeze of lemon, a drizzle of olive oil and salt to taste. In a small bowl mix together the mayo, Dijon mustard and rosemary. Cut the lamb belly into strips and slice the lamb leg thinly.

To assemble the sandwiches, spread the rosemary aioli on the toasted olive bread and make four double-decker sandwiches, dividing the warm sliced lamb, crispy lamb belly, oven roasted tomatoes, and arugula between the layers.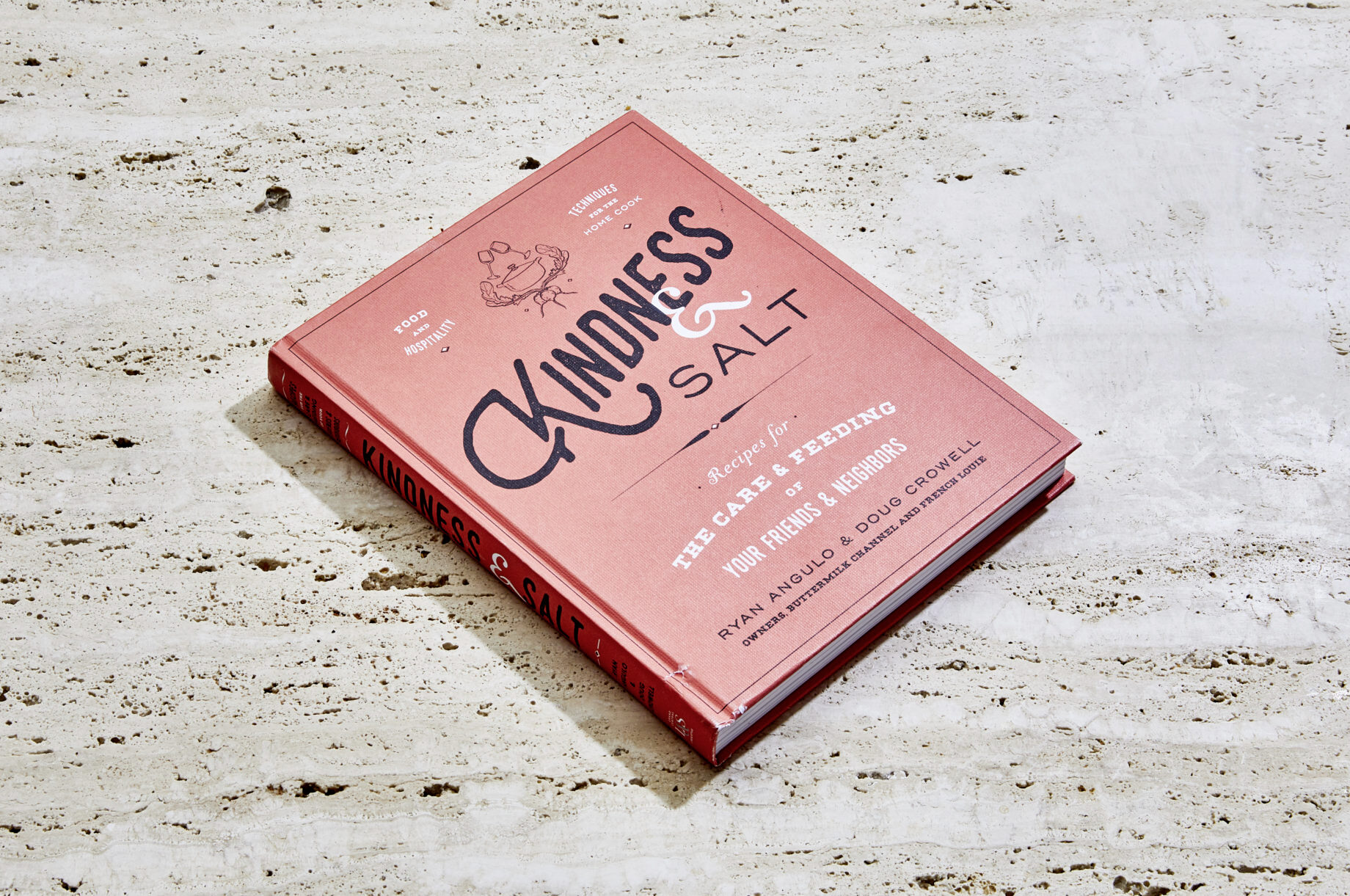 Recipe from Ryan Angulo and Doug Crowell's 'Kindness and Salt'