Tuna poke nachos with @cookwithdanaa
Makes: 4 sandwiches
Prep: 15 minutes
Cook: 20 minutes
Total: 35 minutes
Recipe note: Vegan Friendly, Vegetarian Friendly, Dairy Free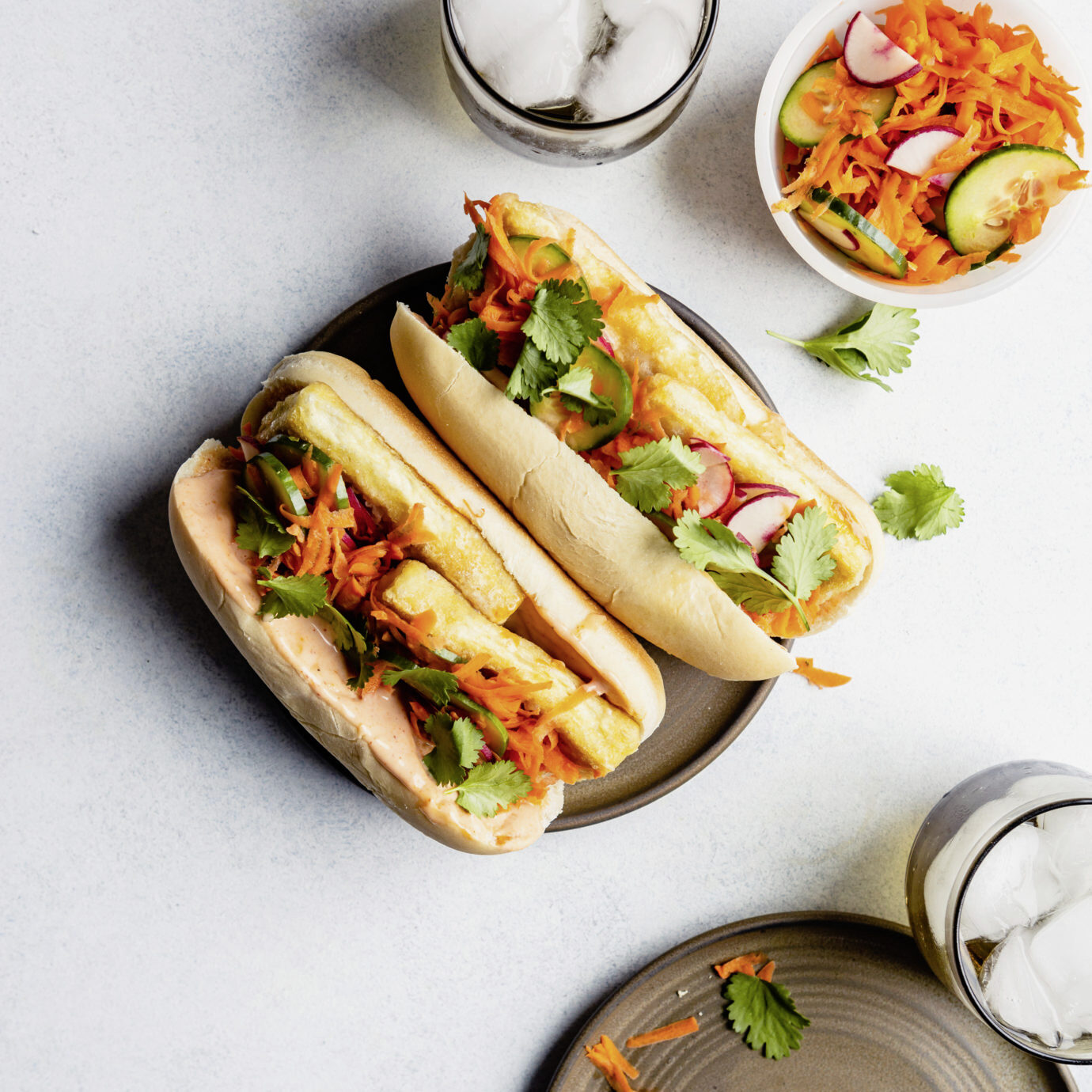 Ingredients:

14 ounces firm tofu, cut crosswise into ½-inch thick slabs
2 large carrots, shredded (2 cups)
½ English cucumber, thinly sliced (1½ cups)
5 radishes, cut into matchsticks (¾ cups)
2 tablespoons liquid aminos
1 teaspoon minced lime zest
2 tablespoons fresh lime juice
2 teaspoons honey
1 teaspoon salt, divided
¼ cup Sir Kensington's Classic Vegan Mayo
1 tablespoon Sriracha or chili garlic sauce
⅓ cup cornstarch
2 tablespoons olive oil
4 Italian sub rolls
½ cup cilantro leaves

Instructions:

Line a baking sheet or plate with a double layer of paper towels. Arrange tofu on towels and top with another double layer of paper towels, place a smaller baking sheet or another plate over top, and set a heavy pot or weight on top; set aside for 15 minutes.
Meanwhile, combine carrots, cucumber, radishes, liquid aminos, lime zest, lime juice, honey, and ½ teaspoon salt in a medium bowl; let rest 15 minutes.
In a separate bowl, whisk together classic vegan mayo and sriracha; set aside.
Whisk together cornstarch and ½ teaspoon salt in a shallow dish. Dredge tofu in cornstarch to coat; transfer to a plate.
Heat oil in a 12-inch nonstick skillet over medium-high heat until shimmering. Add tofu and cook until browned and crisp, about 5–6 minutes per side; transfer to a paper-towel lined plate to drain.
Spread mayonnaise mixture on cut sides of rolls, divide tofu between rolls, top with pickled vegetables and cilantro.