Tuna poke nachos with @cookwithdanaa
Makes: 4-8 hand rolls
Prep time: 20 minutes
Cook time: 15-20 minutes
Total time: 40 minutes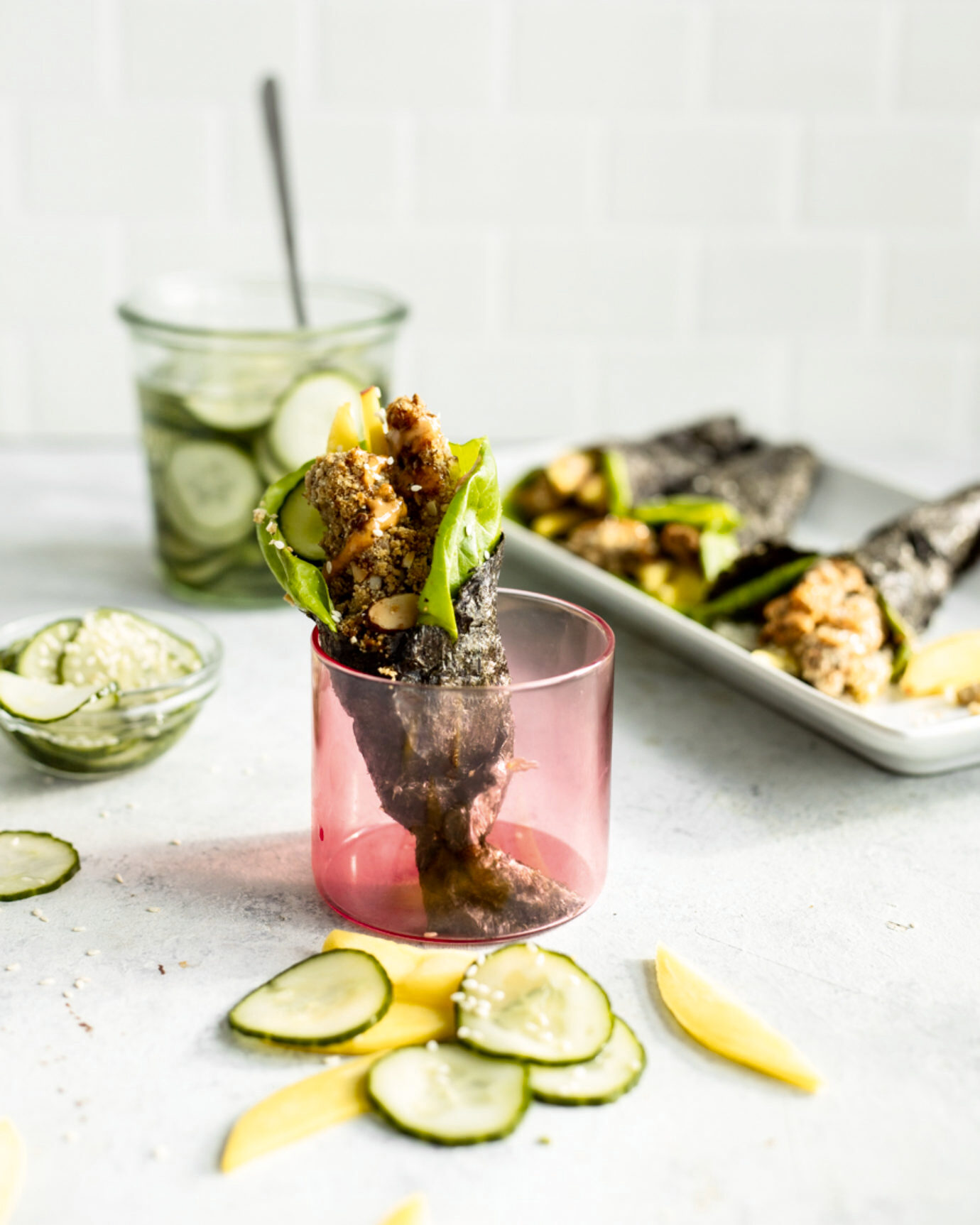 Ingredients:

¼ cup water
¼ cup sugar
¼ cup rice vinegar
1 seedless cucumber, sliced into coins
½ lb. boneless skinless chicken breasts or chicken tenders
1 egg
½ cup almond flour
Salt
Pepper
3 tablespoons Sir Kensington's Avocado Oil Mayo
2 teaspoons sriracha
4 sheets nori
8 Bibb lettuce leaves
1 mango, julienned
Sesame seeds

Instructions:
Combine water, sugar and rice vinegar in a glass bowl and stir until sugar is dissolved. Add cucumbers to an airtight container and pour vinegar mixture over top, seal the lid and set aside.

Cut chicken into strips. Whisk egg in a medium bowl and add almond flour to a separate shallow dish, season with salt and pepper.

Dip chicken strips in egg wash and then in almond flour mixture and place on a greased baking sheet. Bake at 350°F for 15-20 minutes or air fry at 400°F for 15 minutes.

Combine Sir Kensington Avocado Oil Mayo with sriracha in a small bowl and set aside.

Cut nori sheets in half, and lay it horizontally in front of you. Place a teaspoon of spicy mayo on one side and layer the lettuce, mango, cucumbers and chicken on top.

Starting at one corner, roll the entire thing together. Finish with additional spicy mayo and sesame seeds.