PRETZEL CRUSTED CHICKEN TENDERS
Tuna poke nachos with @cookwithdanaa
Makes: 2-4 servings (6-7 chicken tenders)
Prep time: 5 minutes
Cook time: 15 minutes
Total time: 20 minutes
Recipe Note:
Make it Gluten Free

: Use gluten-free pretzels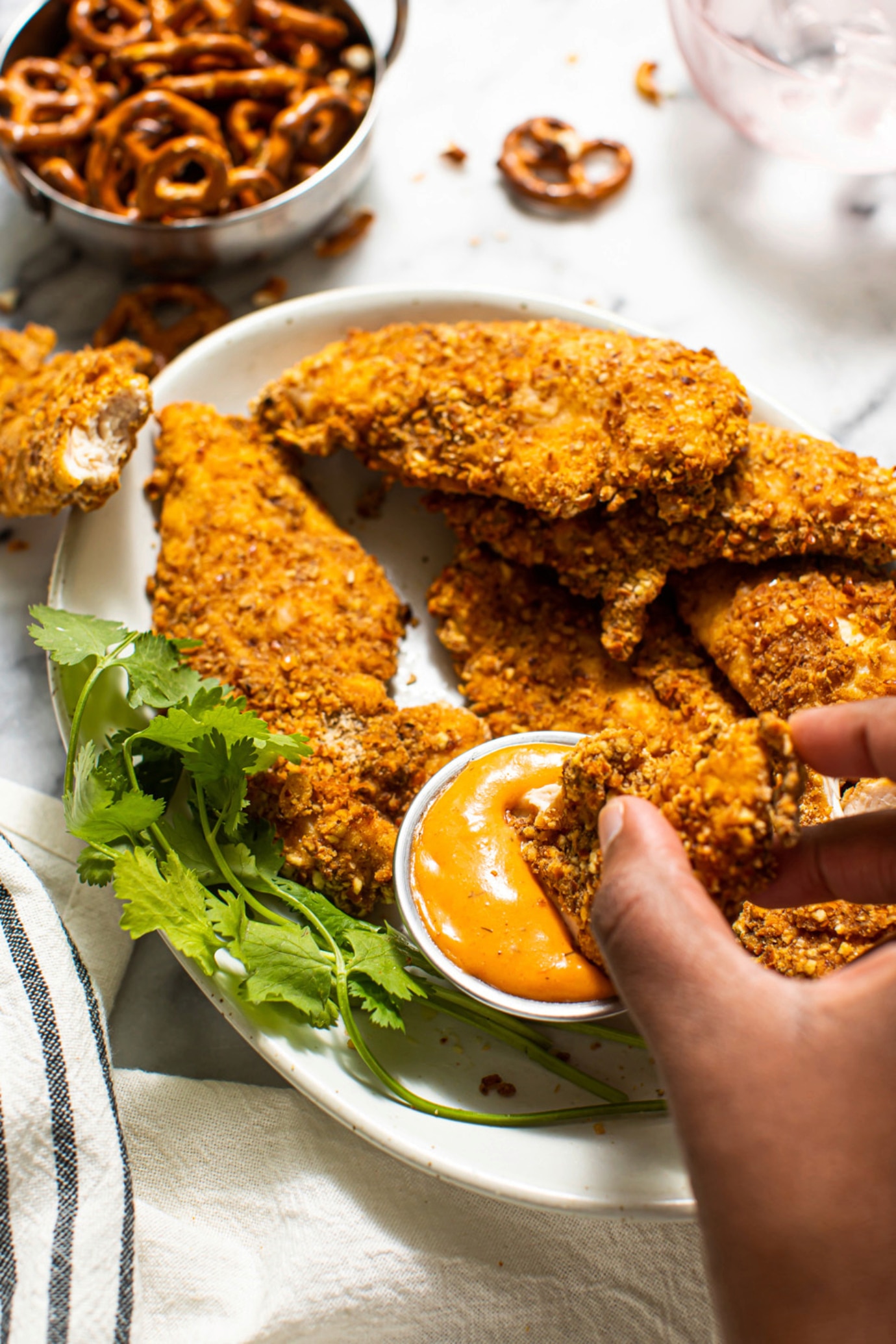 Ingredients:

avocado/olive oil spray
½ teaspoon kosher salt
½ teaspoon freshly ground black pepper
½ teaspoon garlic powder
¼ teaspoon smoked paprika
1 ½ cups crushed mini pretzels
2 eggs, lightly beaten
¼ cup whole buttermilk
1 lb chicken tenderloins, about 6-7 pieces
Sir Kensington's Special Sauce, for dipping

Instructions:

Preheat the oven to 450°F. Line a large baking sheet with aluminum foil and fit with a wire rack. Lightly spray rack with avocado/olive oil.
In a shallow pie plate/bowl, combine all seasonings together with crushed pretzels. Stir to fully incorporate.
In another bowl, whisk together the eggs and buttermilk.
Take each chicken tenderloin and dip into the egg mixture, and then roll into pretzel mixture, shaking off any excess. Place onto the prepared baking rack. Repeat the process until all chicken pieces are coated.
Spray chicken tenders with more avocado/oil. Bake chicken tenders for 12-15 minutes or until chicken is cooked through completely.
Serve warm and with Sir Kensington's Special Sauce.