GRILLED SHRIMP & VEGGIE SKEWERS
Tuna poke nachos with @cookwithdanaa
Makes: 4 servings
Prep time: 20 minutes
Cook time: 25 minutes
Total time: 45 minutes
Recipe Note: Pescatarian Friendly, Paleo Friendly, Whole30 Friendly, Dairy Free, Gluten Free

Make it Keto

: skip the potato wedges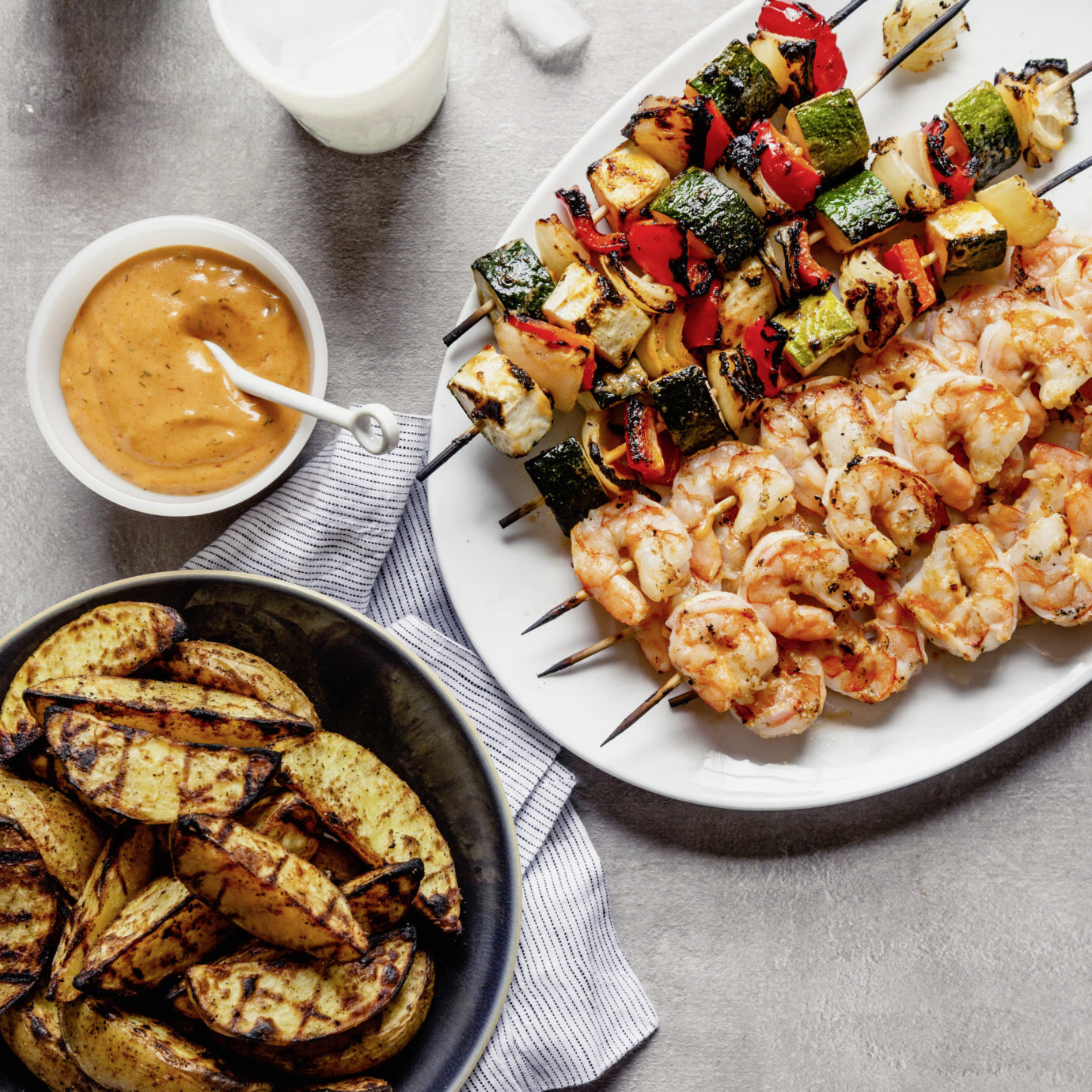 Ingredients:

4 medium yukon gold potatoes, cut into 1-inch thick wedges
1 pound extra-large shrimp (26/30), peeled and deveined
1 red bell pepper, cut into 1-inch pieces
1 small zucchini, cut into 1-inch pieces
1 onion, cut into 1-inch pieces
¾ cup Sir Kensington's Special Sauce, divided
1 tablespoon olive oil
1 teaspoon salt
½ teaspoon cracked black pepper
½ teaspoon ground cumin
½ teaspoon smoked paprika
⅛ teaspoon cayenne (optional)

Instructions:

Add potatoes to a large bowl; cover with water, place in refrigerator, and let soak at least 15 minutes or up to overnight.

Meanwhile, skewer 5–6 shrimp on each of four metal or wood skewers.

On four separate skewers, alternate skewering bell pepper, zucchini and onion.

Brush shrimp and vegetable skewers with ¼ cup special sauce; season with salt and pepper

Drain potatoes and thoroughly pat dry with a kitchen towel. Toss potatoes with oil, salt, pepper, cumin, paprika, and cayenne.

Preheat grill to medium. Brush grill grate with oil.

Arrange potatoes on grate in a single layer and grill until cooked through and charred on both sides, 5–6 minutes per side. Transfer potato wedges to a bowl.

Grill vegetable skewers until tender and charred, 4 minutes per side; transfer to a serving platter. Grill shrimp skewers until shrimp are opaque, 1½ minutes per side. Transfer shrimp skewer to platter with vegetable skewers.

Serve skewers and potato wedges with remaining ½ cup Special Sauce.