Tuna poke nachos with @cookwithdanaa
Makes: 4–6 sandwiches
Prep time: 5 minutes
Cook time: 15 minutes
Total time: 20 minutes
Recipe notes: If you're short on time, skip the roasting of the peppers and instead buy a jar of roasted red bell peppers. Drain the peppers and use as directed.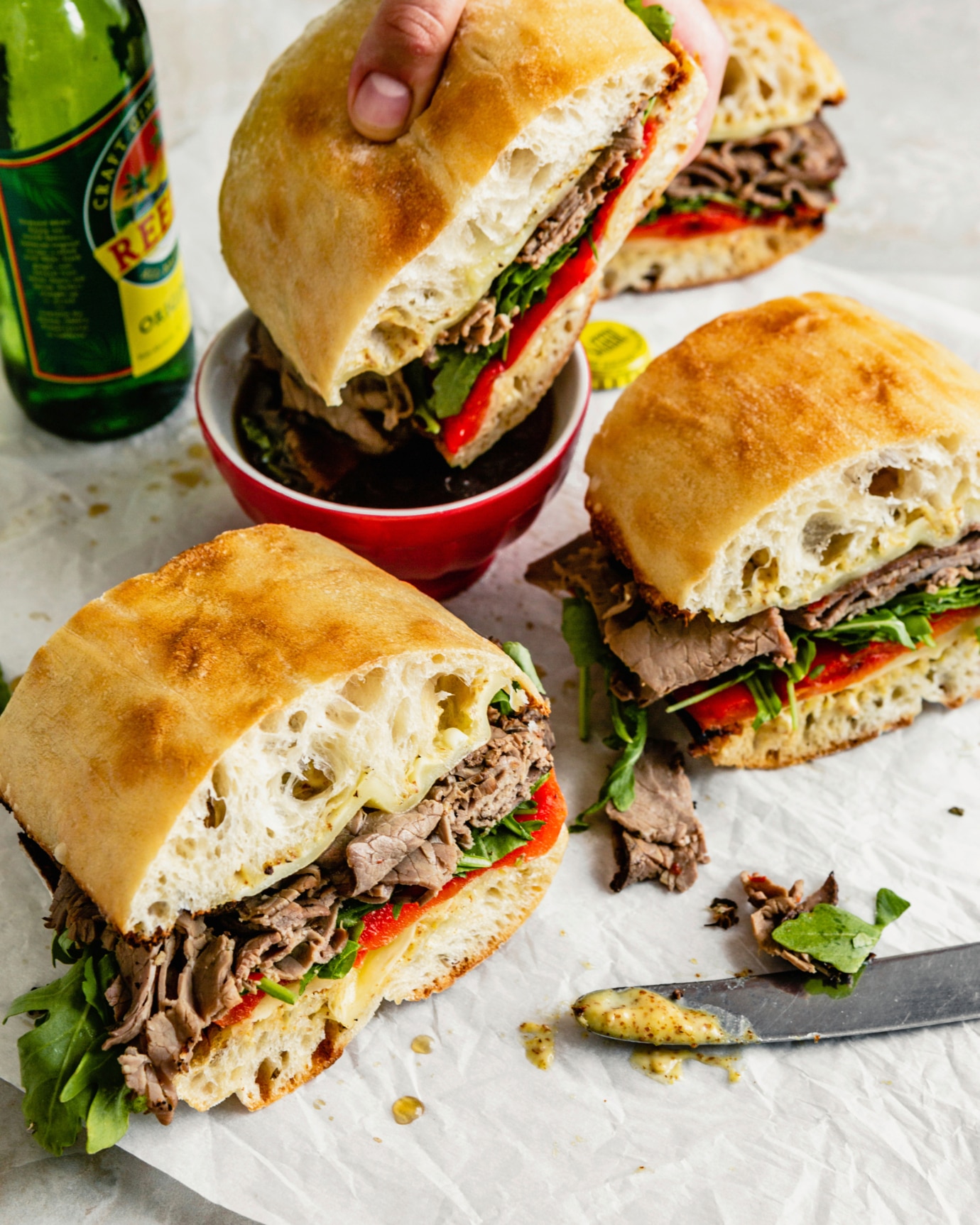 Ingredients:

2 red bell peppers
2 cups low-sodium beef broth
1 teaspoon chopped garlic
1 teaspoon dried oregano
¼–½ teaspoon red pepper flakes
1 pound deli-sliced roast beef
1 loaf ciabatta, halved lengthwise
2 tablespoons olive oil
Kosher salt and balck pepper
3 tablespoons Sir Kensington's Classic Mayonnaise
3 tablespoons Sir Kensington's Spicy Brown Mustard
4 ounces sliced provolone cheese
1 cup arugula

Instructions:
Heat oven to broil with rack set 6 inches from heating element.
Line a baking sheet with foil. Place bell peppers on prepared sheet and broil until charred on all sides, about 15 minutes. Transfer peppers to a glass bowl, cover with plastic wrap and let steam for 10 minutes. Remove and discard skins and seeds, then slice peppers into strips.
Bring broth, garlic, oregano, and pepper flakes to a simmer in a medium saucepan. Add beef, reduce heat to low, and cook just until warmed through, about 4 minutes.
Meanwhile, arrange the ciabatta, cut sides up, on prepared sheet. Brush cut sides of ciabatta with oil; season with salt and pepper; broil until toasted, 1–1½ minutes.
Combine mayonnaise and mustard in a small bowl; brush over toasted sides of ciabatta; layer slices of provolone over top. Broil ciabatta, cheese sides up, until cheese melts, about 2 minutes.
To serve, arrange peppers, arugula and steak on bottom half of ciabatta; top with remaining ciabatta half and cut into 4–6 sandwiches.