SAVORY SWEET POTATO CASSEROLE
Tuna poke nachos with @cookwithdanaa
Makes: 6-8 servings
Prep Time: 5 minutes
Cook Time: 2 hours
Total Time: 2 hours
Recipe Note: Vegetarian Friendly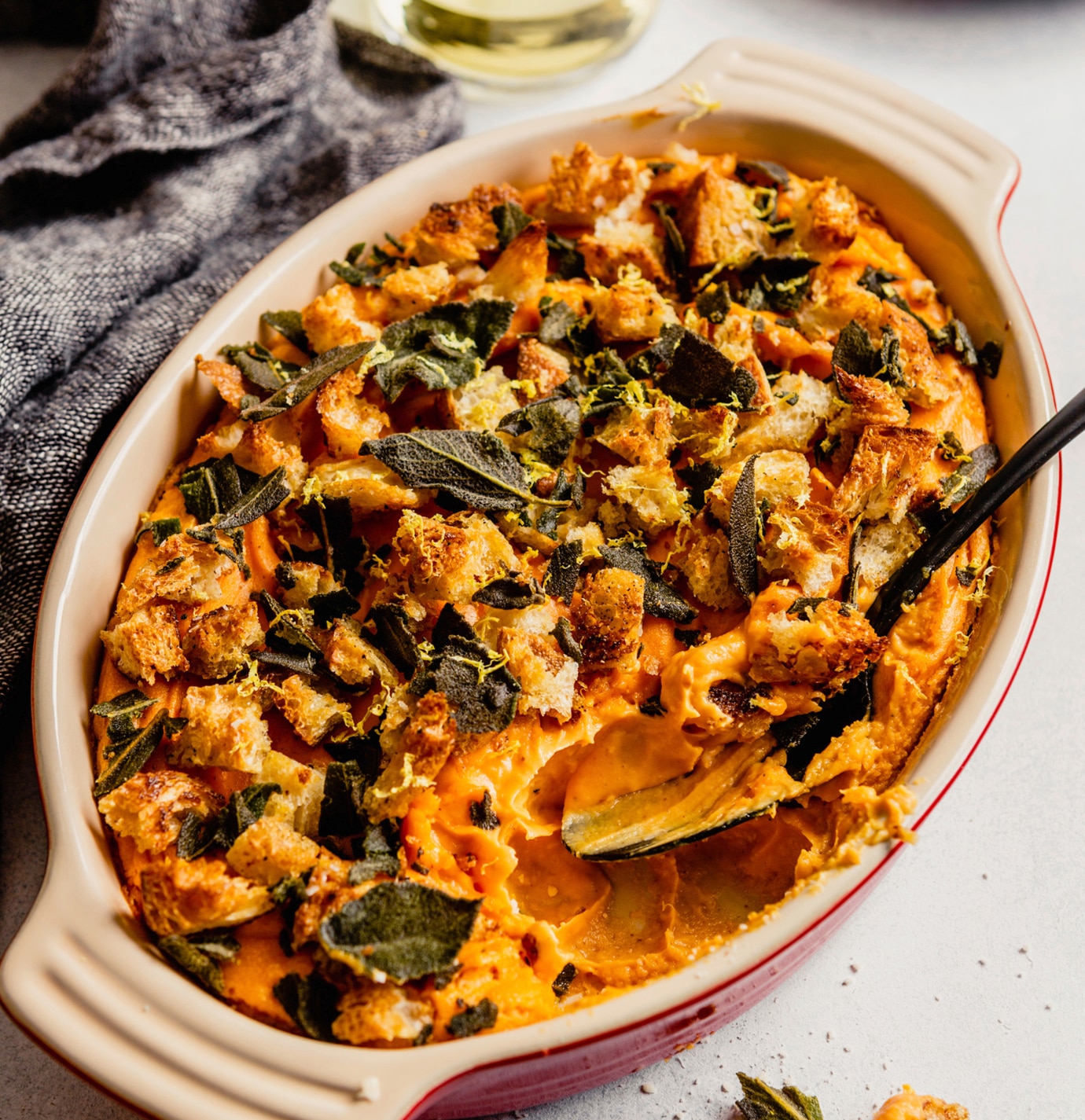 Ingredients:

2 ½ pounds medium sweet potatoes, halved lengthwise
¼ cup sage leaves
3 tablespoons extra-virgin olive oil, divided
1 ½ cups sourdough bread broken into craggy pieces
Kosher salt and cracked black pepper
1 shallot, chopped
⅔ cup Sir Kensington's Organic Mayonnaise
2 ounces finely grated Parmesan (½ cup)
1 large egg
1 tablespoon Sir Kensington Spicy Brown Mustard
¼ teaspoon freshly grated nutmeg
½ teaspoon finely grated lemon zest

Instructions:
Heat oven to 350° with racks set in upper-third and lower-third of oven; line a baking sheet with foil. Place potatoes, cut side down on prepare sheet and prick skins with fork.
Roast potatoes until very tender 1–1½ hours. Cool completely on sheets. Increase oven to 400°F.
Heat 2 tablespoons oil over medium-high in a sauté pan until shimmering. Add sage and cook until starting to brown and crisp, 2–3 minutes.
Transfer sage to a paper-towel lined plate. Add bread to remaining oil in pan and cook, stirring frequently, until crispy and golden brown, about 4 minutes; season with salt and pepper.
Heat remaining tablespoon oil in sauté pan over medium, add shallot and cook, stirring occasionally, until starting to brown, about 5 minutes.
Scoop flesh from potatoes and transfer to a blender; discard skins. Add cooked shallots, mayonnaise, Parmesan, egg, mustard, nutmeg and ¼ teaspoon each salt and pepper to blender with potatoes; blend until smooth.
Transfer potato mixture to a shallow 1-quart baking dish, smooth top with a spatula then create some divots.
Sprinkle sage and breadcrumbs evenly over sweet potatoes. Bake potatoes on upper rack until top is golden and crisp, 20–25 minutes. Sprinkle lemon zest over top and cool 10 minutes.