CHICKPEA SHAWARMA CAESAR SALAD BY NEW YORK SHUK
Tuna poke nachos with @cookwithdanaa
The Garlic Everything Sauce is so creamy and garlicky that it's a great shortcut for a quick and easy family favorite - the Caesar salad.

Ours is not a traditional Caesar salad with a few special ingredients and delicious shawarma protein (here we used chickpea), but one that we enjoy often and has become a staple on our table. The added elements of fennel and cucumber add loads of flavor and crunch while the dangerously snackable crispy Shawarma Roasted Chickpeas take it to a whole 'nother level.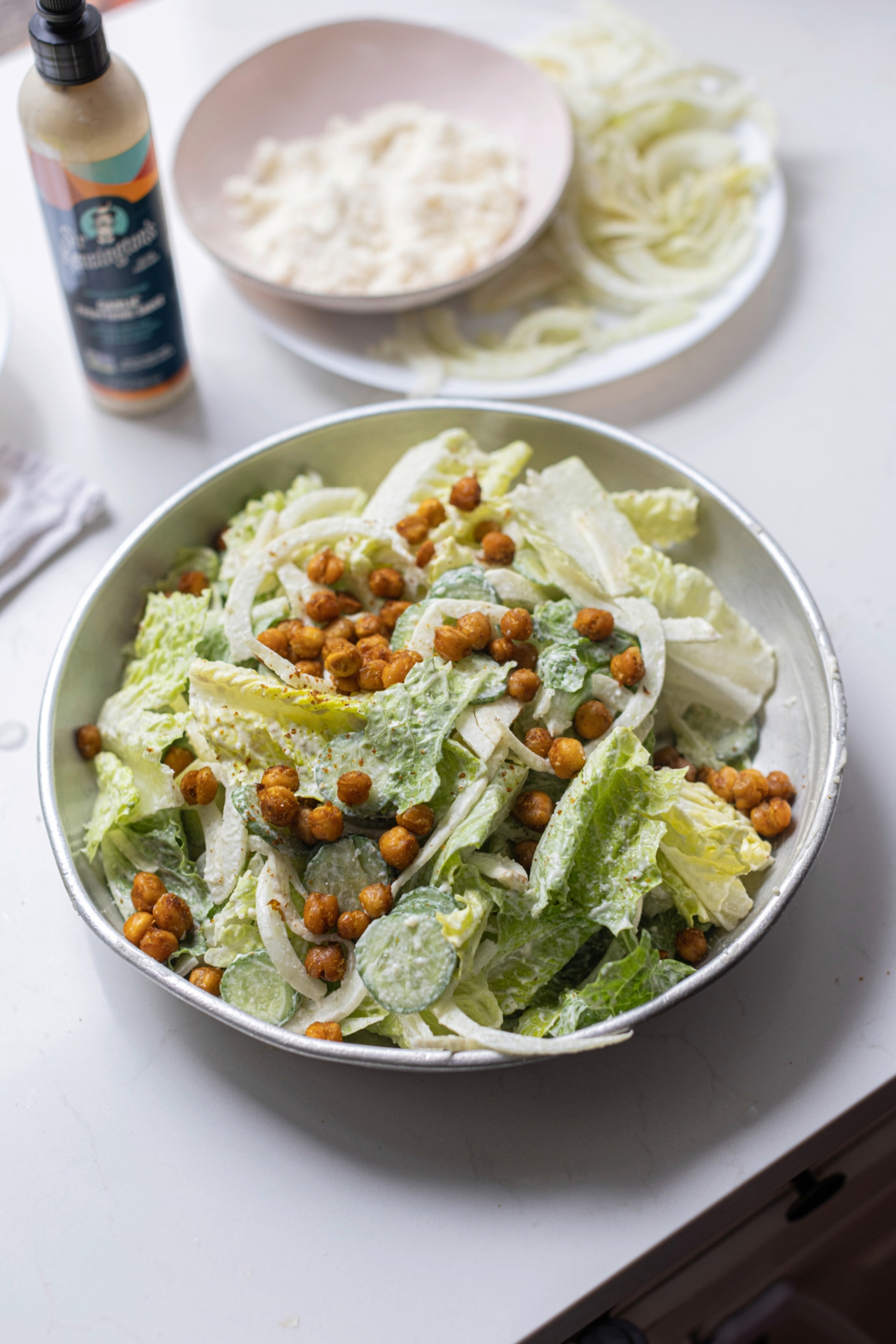 Serves 2-4
1 heart Romaine Lettuce
1 medium Fennel
3 Cucumbers
3 tablespoons grated parmesan cheese
4 tablespoons Sir Kensington's Garlic Everything Sauce
2.5 tablespoons New York Shuk Preserved Lemon Paste
Shawarma Roasted Chickpeas
1 15.5oz chickpea can, drained
2 tablespoons olive oil
2 tablespoons New York Shuk Shawarma Spice
¼ teaspoon salt/or to taste

Preheat oven to 400°F. Drain the chickpeas well and place in a mixing bowl. Add the oil, shawarma spice and salt. Mix until all the chickpeas are well coated and arrange in an even layer on a baking sheet. Roast for 30 minutes until the chickpeas are crispy on the outside and soft on the inside. As they cool down, the chickpeas become more chewy than crispy so I like to top the salad with the chickpeas while they are still slightly warm for extra crispy notes.

For the salad; Break down the romaine lettuce, until all are separated from the 'heart'. Rinse and let dry on a clean dish towel or in a salad spinner if you have one on hand. I prefer to tear pieces by hand for a more rustic look and ease, but feel free to roughly chop with a knife. Place the lettuce in a big mixing bowl and add finely sliced cucumbers. As for the fennel; cut off the fronds and the root on the bottom. Continue cutting down the center of the fennel bulb, place cut side down and cut thin half-moon slices parallel to the root. Add to the bowl the garlic sauce, preserved lemon paste and parm and give it a good mix to make sure everything is fully coated. Taste for seasoning and adjust to your liking. Top with the chickpeas and serve.

Notes:

Preserved Lemon Paste- If you don't have preserved lemon paste you can adjust the seasoning with salt to taste and a squeeze of lemon.

Chickpeas- you won't regret doubling the quantity, as I mentioned before, this is highly snackable stuff. You could also swap the chickpeas with tofu, halloumi cheese, chicken, and cauliflower as other great topping alternatives.

Fennel- if you are not a fan of fennel, don't fret, sub with another romaine heart.