SPINACH ARTICHOKE MAC 'N CHEESE CUPS
Tuna poke nachos with @cookwithdanaa
Makes: 12 cups
Prep time: 10 minutes
Cook time: 35 minutes
Total time: 45 minutes
Recipe Note: Vegetarian Friendly

-Make it Gluten Free: use a 1:1 gluten-free flour blend in place of the whole-wheat flour and make sure the bean pasta is gluten-free.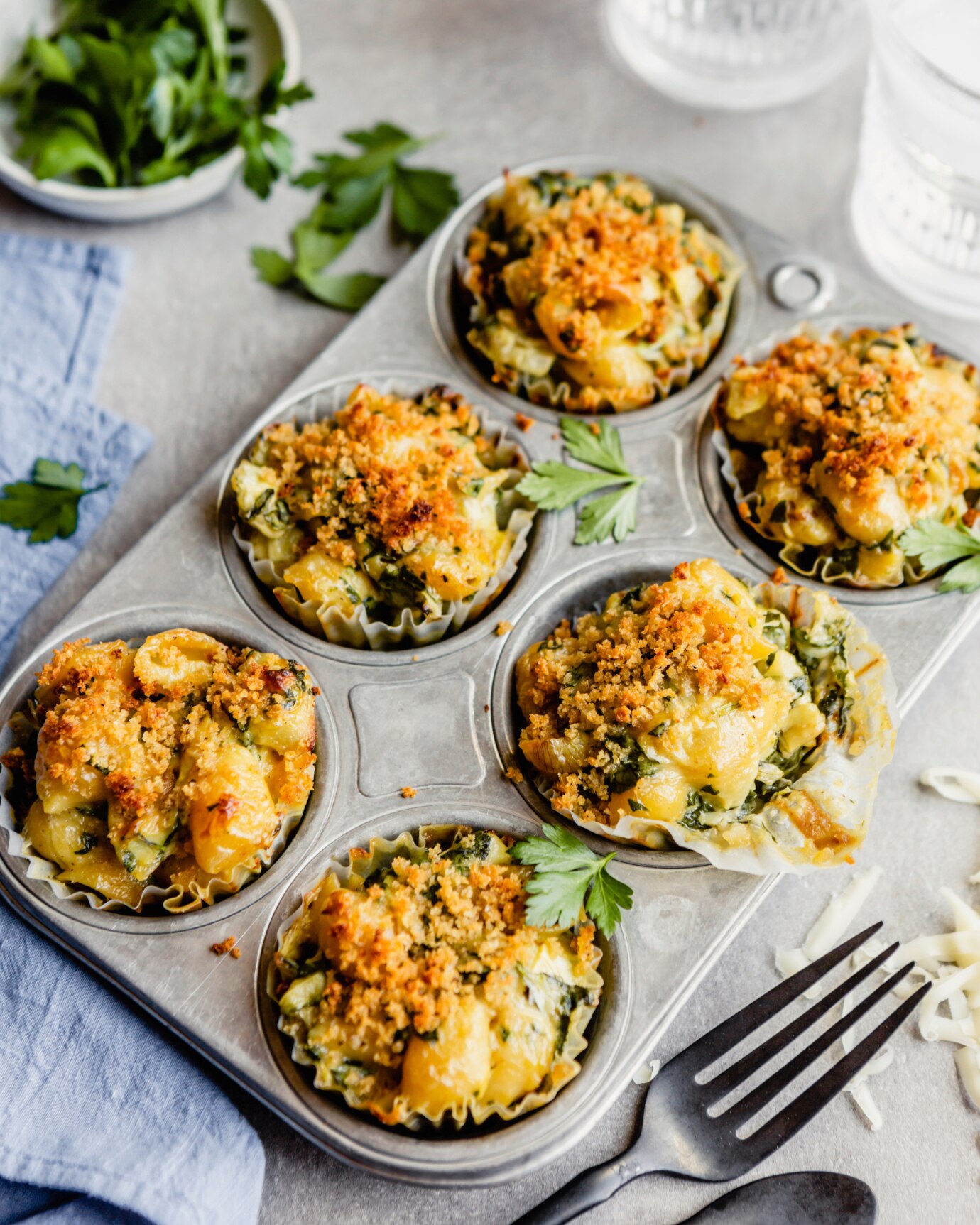 Ingredients:

8 ounces bean or lentil elbow or shell pasta
4 tablespoons unsalted butter, divided
1 (14-ounce) can artichoke hearts, drained and roughly chopped
½ cup diced onion
2 tablespoons whole-wheat flour
1 teaspoon minced fresh garlic
½ teaspoon cracked black pepper
¼ teaspoon kosher salt
1 ½ cups low-fat milk, warmed
¼ cup Sir Kensington's Classic Vegan Mayo
2 teaspoons Sir Kensington's Dijon mustard
1 cup grated Fontina cheese
¼ cup grated Parmesan cheese
1 (6 ounce) bag fresh spinach, chopped
¼ cup Panko

Instructions:

Preheat oven to 425ºF. Line a 12-cup standard muffin tin with paper liners or coat with nonstick spray; set aside.
Cook pasta 2 minutes less than directions on package directions, drain and toss with a drizzle of olive oil to avoid sticking.
In a large pot or Dutch oven, heat the 1 tablespoon butter over medium high. Add the artichokes and sauté until lightly browned, 4–5 minutes. Transfer browned artichokes to a small bowl and set aside.
Add 2 tablespoons butter to now-empty pot over medium heat, add onion and cook until softened, about 4 minutes. Sprinkle in flour, garlic, pepper and salt and cook, whisking constantly, until flour turns golden brown, 1 minute.
Slowly pour in milk, whisking constantly, until no lumps of flour remain. Bring sauce to a simmer and cook until thickened, about 5 minutes. Whisk in mayo and Dijon. Add fontina and Parmesan by small handful, whisking to incorporate after each addition. Remove pot from heat and stir in cooked pasta, artichokes and spinach. Season with salt and pepper to taste.
Microwave remaining tablespoon butter in a small bowl microwave-safe bowl until melted. Add panko and stir to combine; season with salt and pepper to taste.
Divide mac 'n cheese between prepared muffin wells and sprinkle each with breadcrumbs. Bake mac 'n cheese cups until the topping is deep golden brown, 10–12 minutes, or until golden brown.