FREEZER FRIENDLY CHICKEN TAQUITOS
Tuna poke nachos with @cookwithdanaa
Makes: 12 taquitos
Prep time: 10 minutes
Cook time: 30 minutes
Total time: 40 minutes
Recipe note: Gluten Free, Dairy Free. Make this recipe Paleo or Keto friendly by using cassava or almond flour tortillas instead of corn tortillas.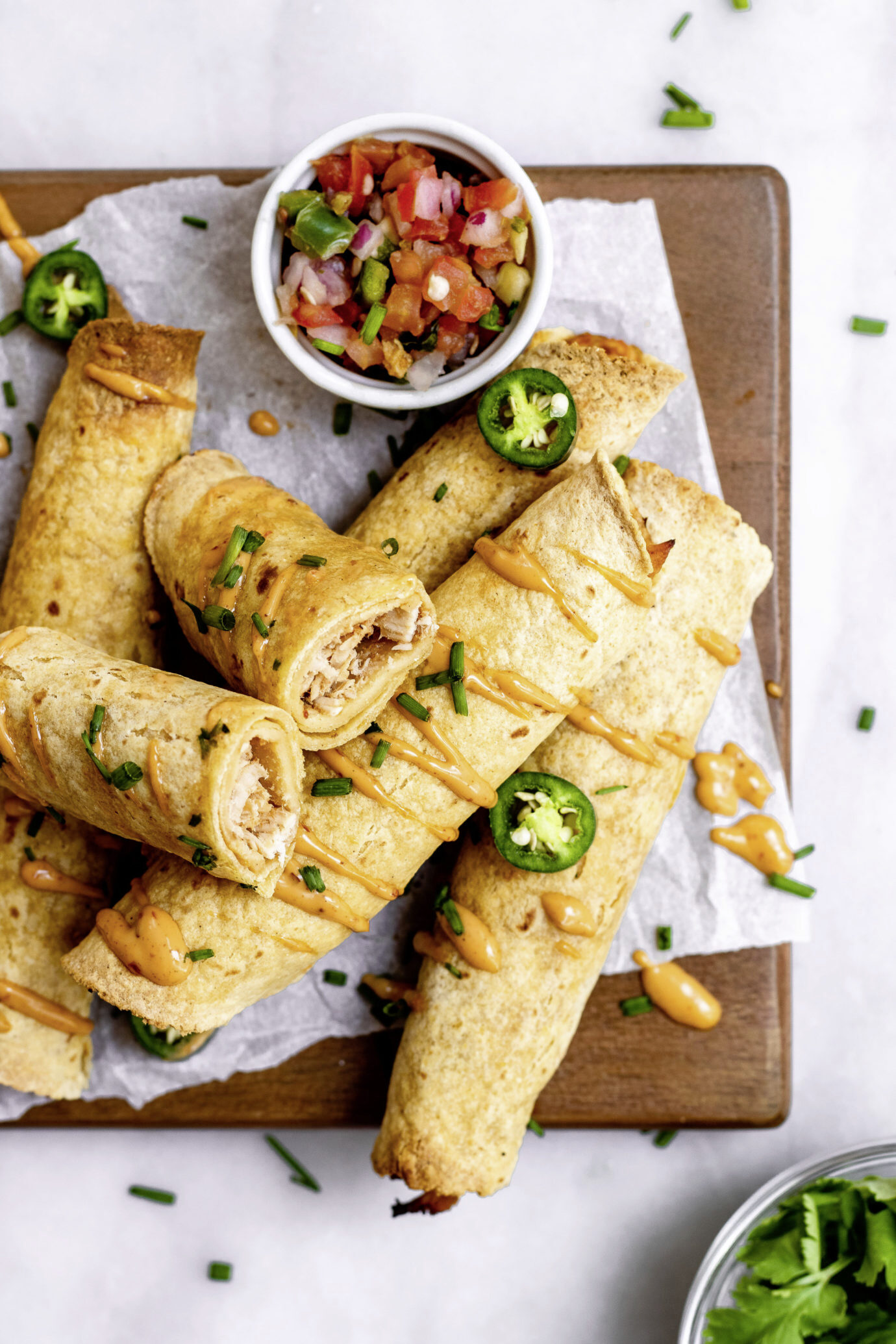 Ingredients:

2 cloves garlic
2 tablespoons olive oil
1 pound chicken breast tenders (let thaw overnight if previously frozen)
1 teaspoons salt
1/2 teaspoon black pepper
1 teaspoon paprika
1/2 teaspoon cumin
1/2 teaspoon chili powder
1/4 teaspoon cayenne (optional)
1/4 cup salsa
3 tablespoons Sir Kensington's Avocado Oil Mayo
12 small corn tortillas
Optional: ½ cup cheddar cheese, dairy free cheddar cheese, or nutritional yeast

Instructions:

Preheat the oven to 425 degrees F.

Finely mince the garlic and add to a skillet with the olive oil.

Saute for 2-3 minutes or until lightly browned.

Add the chicken to the pan along with the salt, pepper, paprika, cumin, chili powder and cayenne if using.

Cook over medium heat for about 8-10 minutes or until the chicken is cooked through and lightly browned on both sides.

Use two forks to shred the chicken OR add the chicken to a bowl and use a handheld electric mixer to shred on low speed. This will easily shred the chicken, but won't turn it to mush.

Add the salsa and mayo to the chicken and let cook for 2-3 minutes to allow the flavors to blend. (If the chicken had been transferred to a bowl, just add it back to the pan).

Remove from heat and stir in the cheese if using.

Microwave the tortillas between two damp paper towels for 30 seconds to soften.

Add about 2 tablespoons worth of chicken to each tortilla and roll tightly. Transfer to a baking sheet lined with parchment paper.

Repeat until all chicken has been used. Spray the tops of the taquitos with oil or lightly brush with oil.

Bake for 15-18 minutes or until crispy.

Serve with salsa and guacamole.