TUNA POKE NACHOS WITH @COOKWITHDANAA
Tuna poke nachos with @cookwithdanaa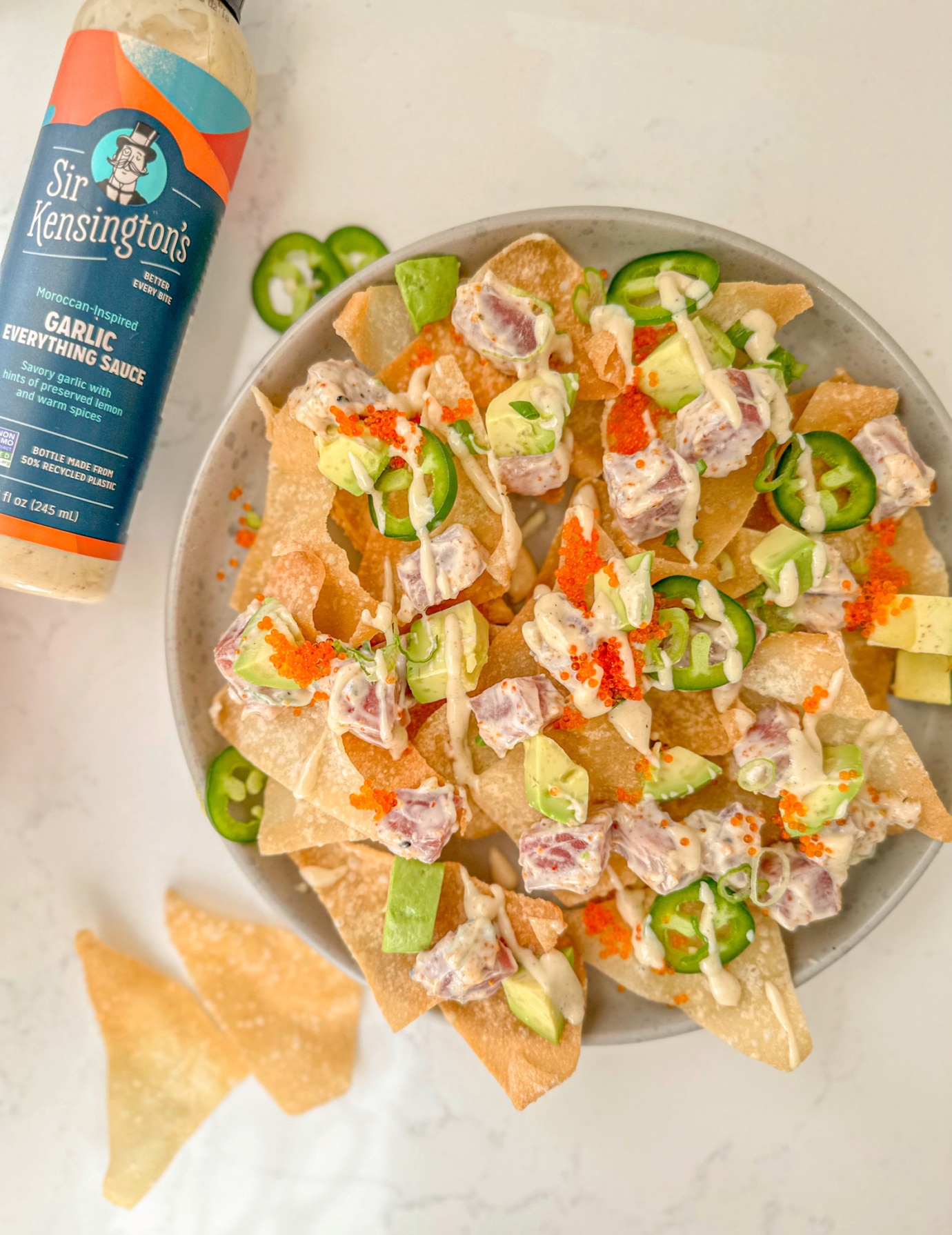 Recipe Development and Photography: @cookwithdanaa
Ingredients:

For the Wonton Chips:

1/4 pack wonton skins (15 wonton skins makes 60 chips)
2 cups canola or vegetable oil
Note: You can also use your favorite chip or cracker instead!

For the Spicy Tuna:

2.5 tbsp Sir Kensington's Classic Mayonnaise
1/2 tsp sesame oil
Togarashi (Japanese 7 spice), to taste
1 garlic clove, grated
1/4 lb sashimi grade tuna, cut in cubes
1 green onion, sliced (save some for garnish)

To Garnish:

1 avocado, cubed
Tobiko (optional)
1/2 jalapeno, thinly sliced
Sliced green onions
Sir Kensington's Garlic Everything Sauce

Instructions:


Cut square wontons in triangle shapes
Heat 2 cups of canola oil in a pot on medium heat (aim for 350 degrees Fahrenheit)
While the oil is heating up, slice green onions. Slice jalapeno thinly. Cut your tuna in cubes and cut your avocado in cubes. Set garnishes aside
Once oil is hot, gently add the wonton chips a few at a time. They cook in 30-45 seconds. Once they're slightly golden (not golden brown!), take them out. When you add the wonton chips on a wire rack or paper towel, the chips will continue cooking and will darken in color
Make the spicy tuna by mixing 2.5 tablespoons classic mayonnaise, ½ teaspoon sesame oil, grated garlic, and togarashi (Japanese 7 spice). Once the sauce is mixed well, add cubed tuna and sliced green onions. Mix everything together
To garnish the nachos, add the wonton chips on a plate first. Next, make sure each chip has a little bit of everything: add spicy tuna, cubed avocado, sliced jalapeno, sliced green onions and tobiko. Finally, top the nachos with garlic everything sauce. Serve immediately and enjoy!