CHARRED CORN & HALLOUMI TACOS
Tuna poke nachos with @cookwithdanaa
Makes: 4 servings (8 tacos)
Prep: 15 minutes
Cook: 15 minutes
Total: 30 minutes
Recipe note: Vegetarian Friendly, Gluten Free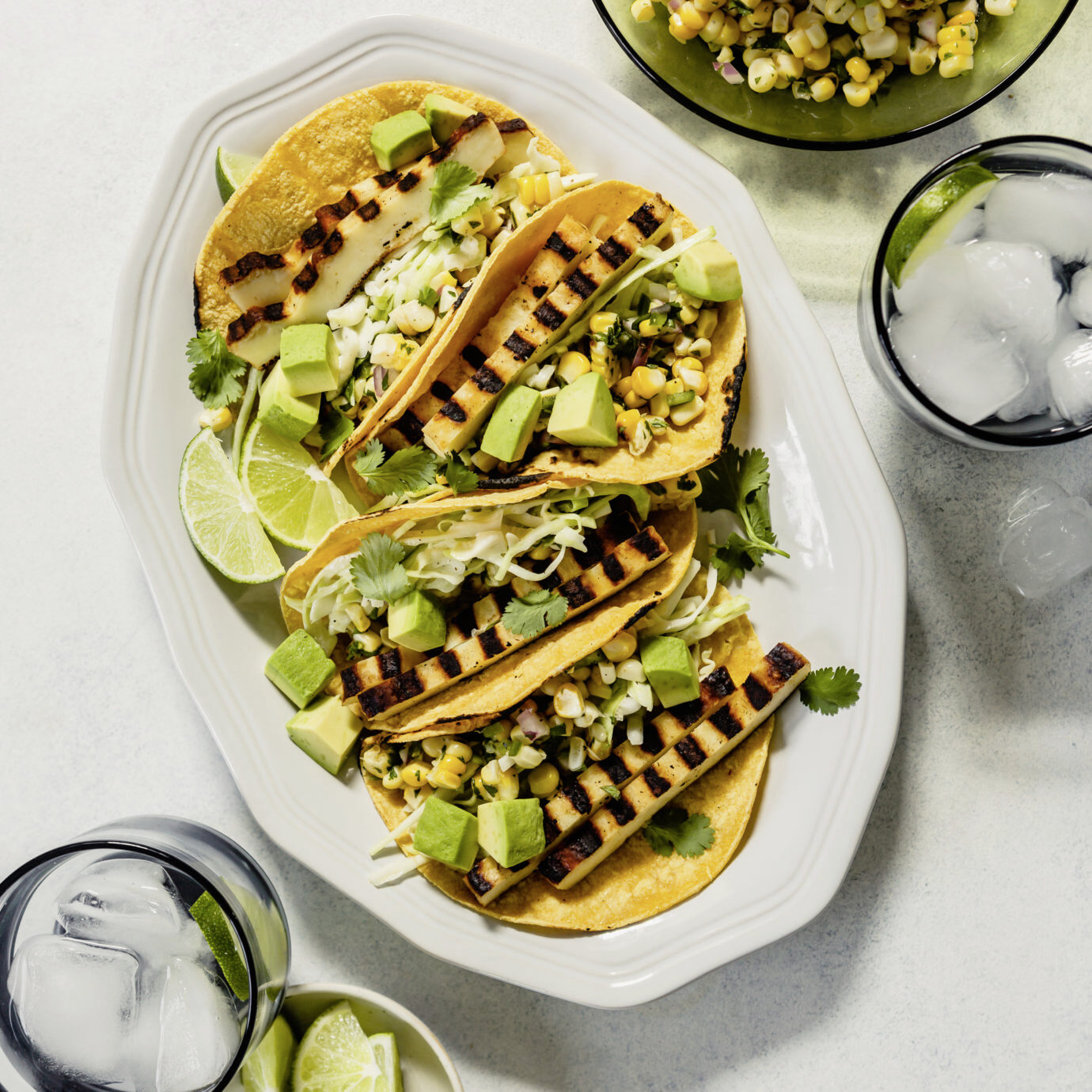 Ingredients:

3 ears sweet corn, shucked
Nonstick cooking spray
⅓ cup minced red onion
¼ cup chopped cilantro
2 tablespoons minced jalapeño
¼ cup fresh lime juice, divided
¼ teaspoon salt
Black pepper
¼ cup Sir Kensington's Avocado Oil Vegan Mayo
1 tablespoon honey
1 teaspoon minced fresh garlic
½ teaspoon ground cumin
4 cups shredded green cabbage
¼ cup thinly sliced scallions
8 ounces halloumi, halved widthwise into two ½-inch-thick slices
8 corn tortillas (6-inch)
1 avocado, cubed
Lime wedges, for serving

Instructions:

Preheat grill or grill pan to medium-high. Brush grill grate with oil.
Coat corn with nonstick spray and grill, covered, until charred, 8–10 minutes, rotating to char all sides.
Transfer corn to a cutting board, let cool slightly, then cut kernels from cobs and transfer to a bowl. Stir in red onion, cilantro, jalapeño, 2 tablespoons lime juice, and ¼ teaspoon salt; season with black pepper and additional salt to taste.
In a large bowl, whisk together avocado oil vegan mayo, remaining 2 tablespoons lime juice, honey, garlic, cumin, and ½ teaspoon salt. Add cabbage and scallions and toss to coat; season with pepper to taste.
Coat both sides of halloumi slices with nonstick spray and grill, covered, until heated through and charred, about 2 minutes per side; transfer to a cutting board and cut into ¼-inch thick strips.
Divide slaw, halloumi slices (2 slices per taco), and corn salsa between tortillas. Top with avocado and serve with lime wedges.