Makes: 4-6 servings
Prep time: 10 minutes
Cook time: 30 minutes
Total time: 40 minutes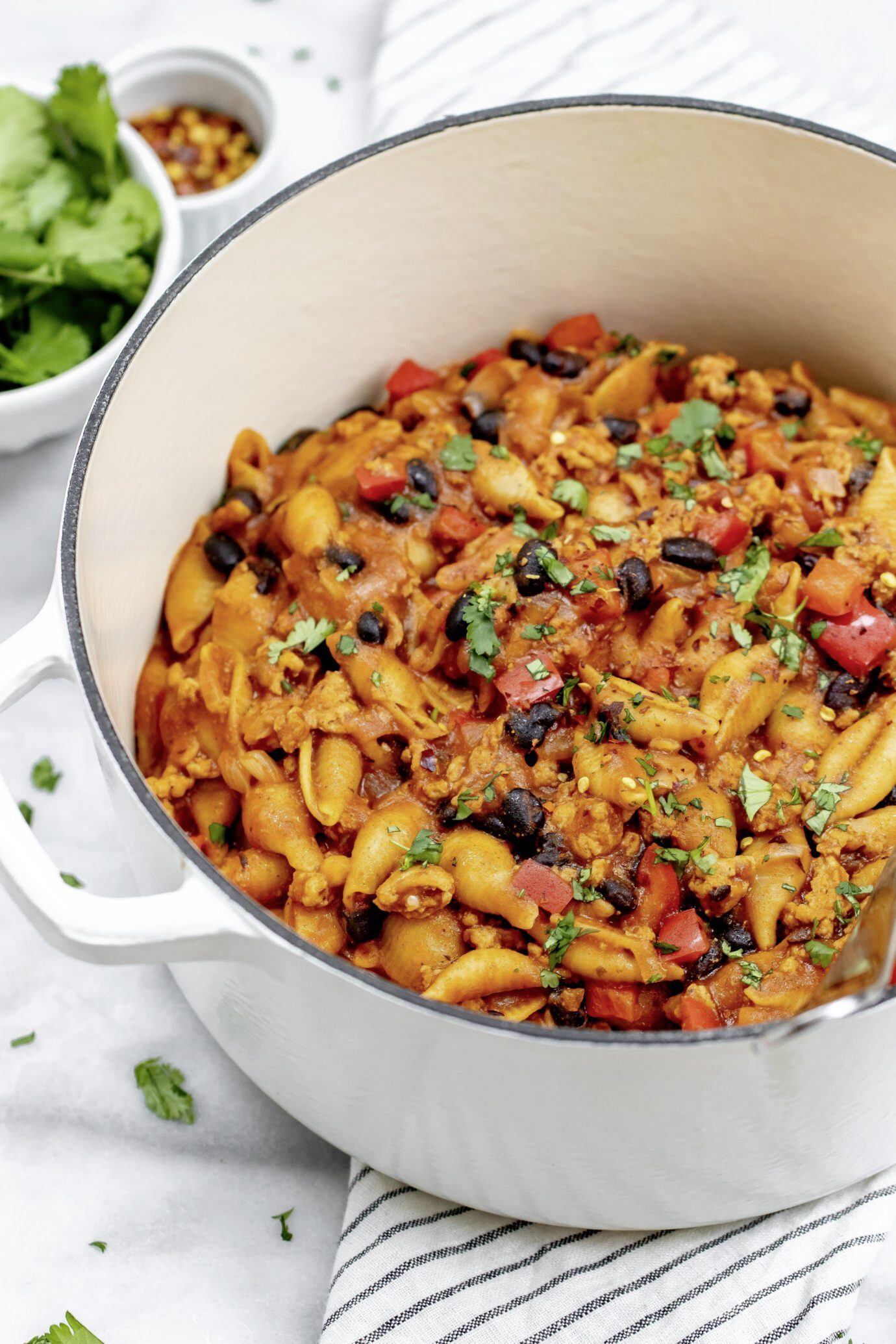 Ingredients:

2 tablespoons olive oil
1 pound ground turkey (chicken or beef also work)
1 white onion
1 red bell pepper
1 teaspoon salt
3 cloves garlic
1 teaspoon cumin
2 teaspoons chili powder
1 teaspoon oregano
1 teaspoon paprika
2 tablespoons all purpose flour
1, 15 ounce can tomato sauce
1/2 cup diced tomatoes (from a can)
1 can black beans, drained and rinsed
1/4 cup Sir Kensington's Chipotle Mayo
2 ½ -3 cups chicken stock (use 2 ½ cups for al dente pasta and 3 cups for softer pasta)
8 ounces pasta (small shapes such as elbows or shells work best)
Optional: 1/2 cup cheddar cheese, ¼ cup chopped scallions

Instructions:

Add the olive oil to a large pot and heat over medium/low heat.
Add the ground turkey and let cook until it is cooked through, about 10 minutes.
Add the onion, bell pepper, salt and garlic and saute for an additional 5 minutes.
Add the cumin, chili powder, oregano, paprika and all purpose flour.
Add in all remaining ingredients and stir to mix everything together.
Bring to a boil, stir and reduce heat to low.
Let simmer for about 12-15 minutes or until all of the liquid is absorbed and the pasta is cooked.
Give a good stir and top with cheddar cheese and chopped scallions and/or cilantro if desired. If topping with cheese, add it on right when the pasta finishes cooking and then put the lid back on to let it melt.