Tuna poke nachos with @cookwithdanaa
Makes: 4 servings (sandwiches)
Prep time: 15 minutes
Cook time: 20 minutes
Total time: 35 minutes
Recipe Note: Pescatarian Friendly, Dairy Free
Make it Keto

: skip the bun

Make it Gluten Free

: use a gluten free bun or serve bunless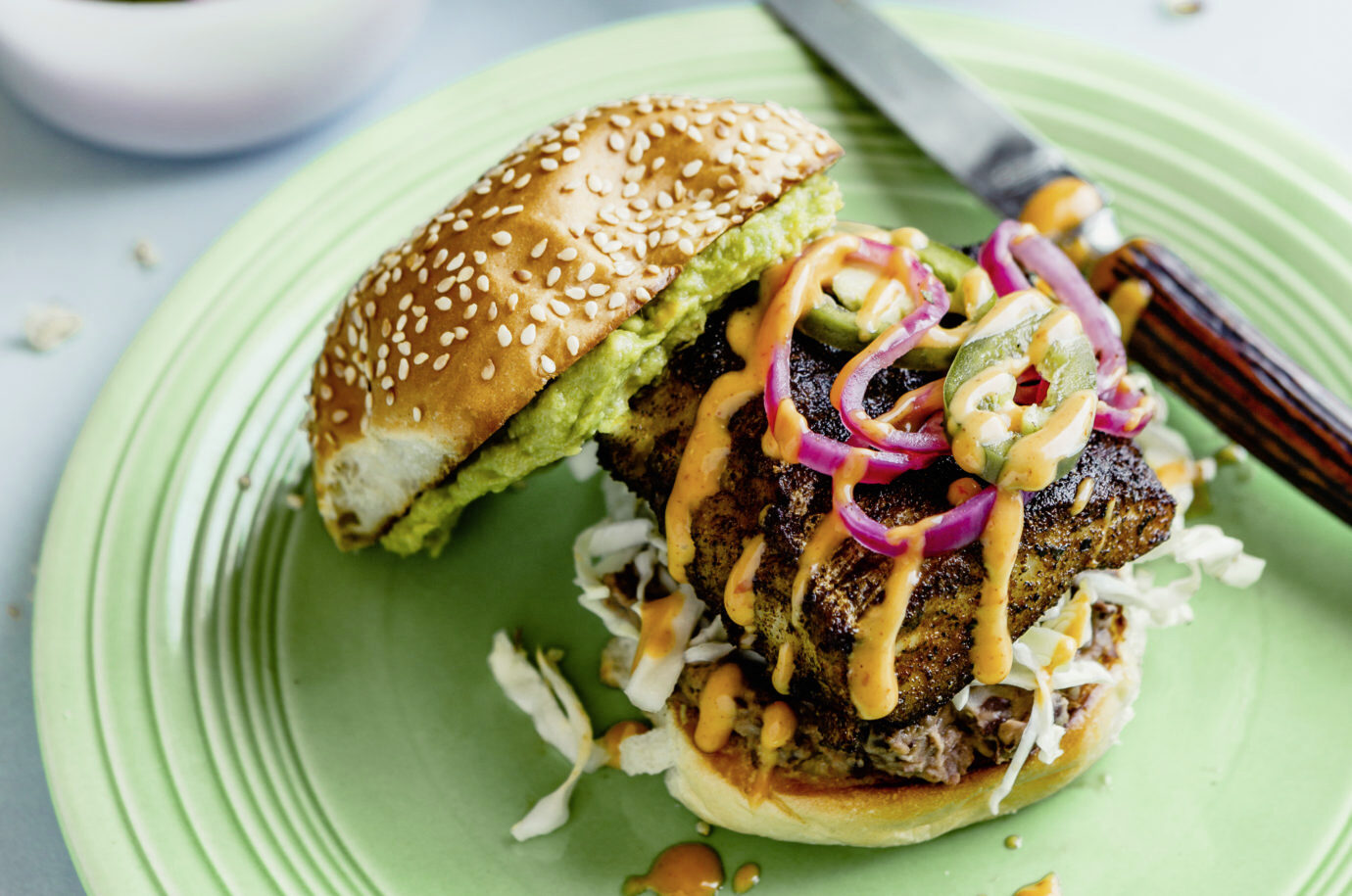 Ingredients:

½ cup white vinegar
1 tablespoon honey
2 teaspoons kosher salt, divided
½ red onion, thinly sliced
1 jalapeno, thinly sliced
1 cup canned black beans, rinsed and drained
2 tablespoons Sir Kensington's Chile Lime Crema Everything Sauce
1 avocado
2 teaspoons ground cumin, divided
1 tablespoon smoked paprika
2 teaspoons dried oregano
1 teaspoon ground black pepper
½ teaspoon cayenne
4 (4-ounce) mahi mahi filets
2 tablespoons extra-virgin olive oil
2 cups shredded green cabbage
4 Kaiser rolls, sliced and toasted

Instructions:
Bring vinegar, ½ cup water, honey, and 1 teaspoon salt to a boil in a small saucepan. Meanwhile, combine onion and jalapeno in a medium bowl. Pour boiling vinegar mixture over onion mixture and let sit for at least 15 minutes.
Mash beans with Chile Lime Crema Everything Sauce; season with salt and set aside.
Mash avocado with 1 teaspoon cumin; season with salt and set aside.
Combine paprika, oregano, remaining teaspoon salt, remaining teaspoon cumin, black pepper, and cayenne in a shallow bowl. Pat mahi mahi fillets dry then coat fillets in spice mixture on all sides; rubbing in as needed.
Heat a non-stick skillet set over medium-high for 3 minutes. Add 1 tablespoon of oil to skillet, swirl to coat, then add 2 mahi mahi fillets. Cook just until starting to blacken, about 4 minutes. Flip the fillets and cook 3–4 minutes more until blackened on second side and a thermometer inserted in the thickest parts registers 145ºF; transfer to a plate. Repeat cooking process with remaining oil and fillets.
Meanwhile, toss cabbage with 2 tablespoons of the onion pickling liquid; season with salt.
Toast buns, cut side down in batches in now-empty skillet just until golden brown, about 1 minute.
Spread beans mixture on cut side of each bottom bun, top with shredded cabbage and 1 mahi mahi fillet. Top mahi mahi with pickled onions and jalapeños; spread avocado mixture on cut side of each top bun and place on top of each torta. Serve tortas with additional Chile Lime Crema Everything Sauce.