SAVORY CHIPOTLE OVERNIGHT OATS
Tuna poke nachos with @cookwithdanaa
Makes: 2 servings
Prep time: 5 minutes + 2 hours chilling time
Cook time: 10 minutes
Total time: 15 minutes + 2 hours chilling time
Recipe Note:
Make it Dairy Free

: use your favorite unsweetened non-dairy milk, non-dairy yogurt, and skip the Cheddar.

Make it Gluten Free

: use certified gluten-free rolled oats.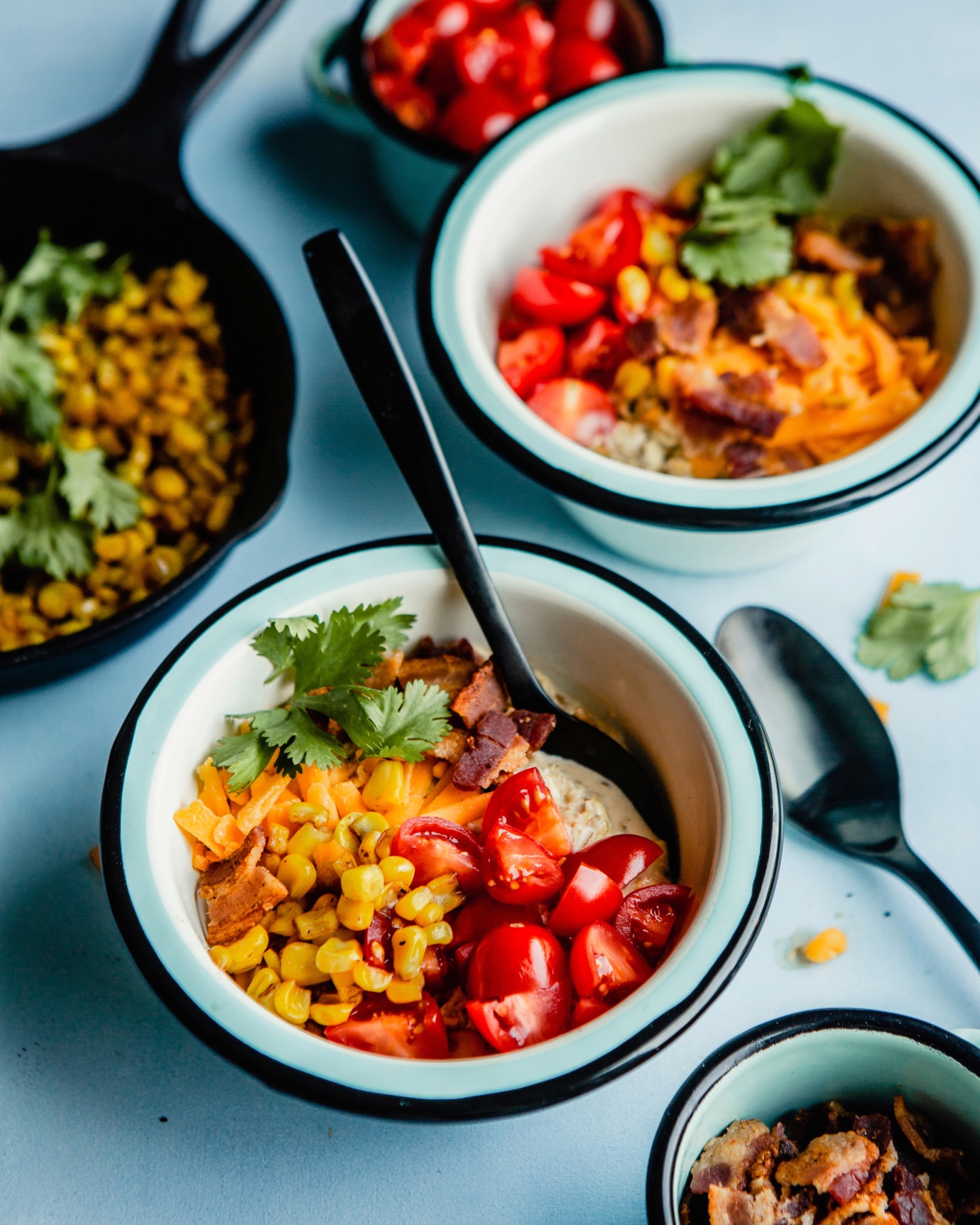 Ingredients:

¾ cup old-fashioned rolled oats
¾ cup milk of choice
¼ cup plain full-fat Greek yogurt
1 tablespoon Sir Kensington's Chipotle Mayonnaise, plus more for serving
2 teaspoons flax seeds
1 teaspoon honey
Kosher salt and black pepper to taste
4 ounces thick-cut peppered bacon
¾ cup frozen corn, thawed
½ cup quartered cherry tomatoes
¼ cup shredded Cheddar
Tabasco, or hot sauce of choice, optional

Instructions:
Combine oats, milk, yogurt, Chipotle Mayonnaise, flax seeds and honey in a large glass jar or container with a tight fitting lid; season lightly with salt and pepper to taste.
Cover oatmeal and refrigerate at least 2 hours or overnight.
Cook bacon in a large skillet over medium-high heat until browned and crispy, 5–8 minutes. Transfer bacon to a paper-towel-lined plate and let cool; crumble.
Drain all but 1 tablespoon drippings from pan, add corn and cook over medium heat just until warmed through and golden brown, 2–3 minutes.
Stir oatmeal and adjust seasoning with additional Chipotle Mayonnaise as desired, salt and pepper. Divide oatmeal between two serving dishes, top with crumbled bacon, corn, tomatoes, and Cheddar. Serve with additional Chipotle Mayonnaise and hot sauce.
Most overnight oat recipes call for enjoying cold, if you prefer your oatmeal warm, simply heat it in the microwave on high for 1–2 minutes, stirring halfway through.