SUMMER ROLLS WITH GARLIC PESTO DIPPING SAUCE
Tuna poke nachos with @cookwithdanaa
Makes: 8 Rolls
Prep time: 20 minutes
Cook time: 20 minutes
Total time: 40 minutes
Recipe Note: Vegetarian Friendly, Dairy Free, Gluten Free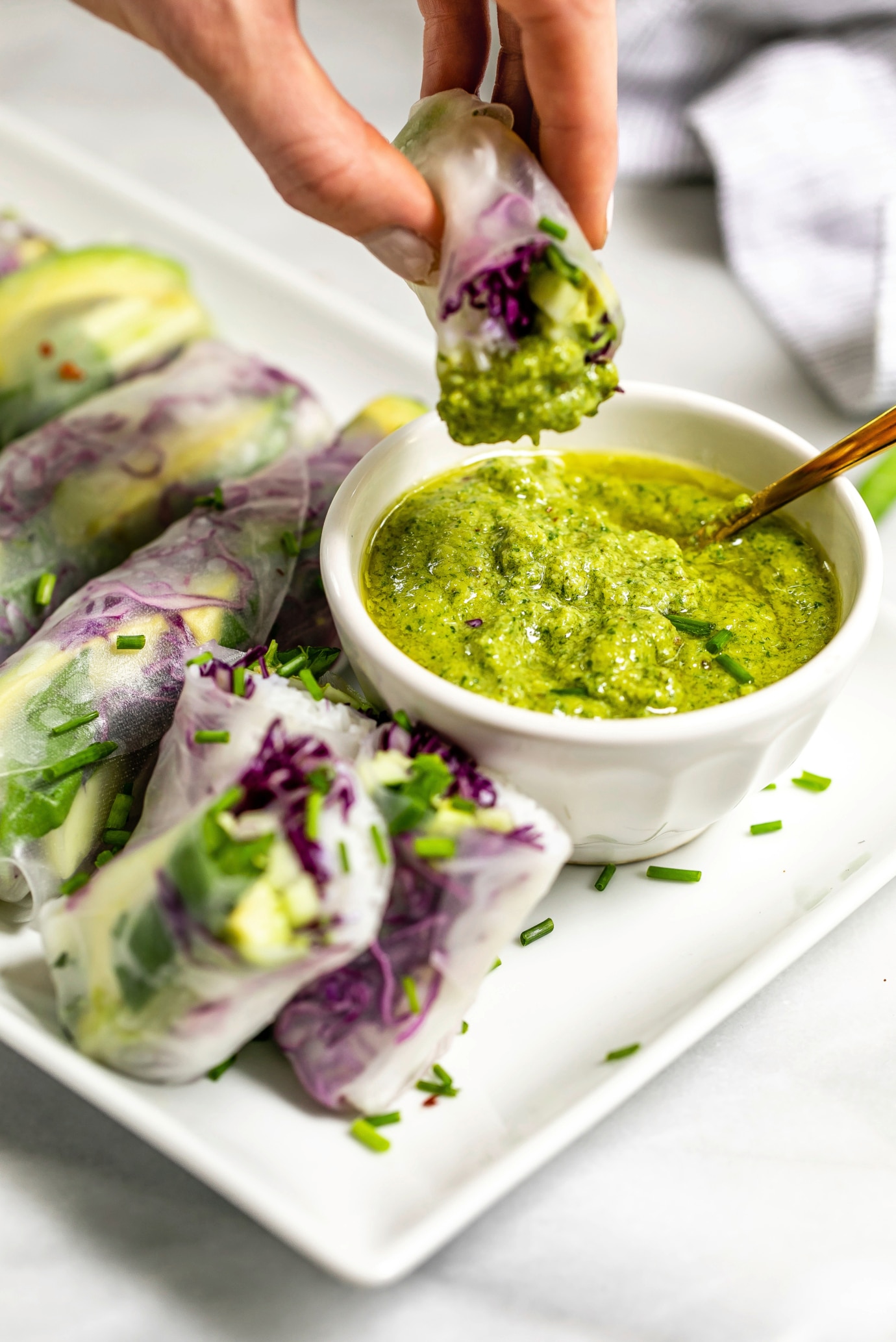 Ingredients:

For the Rolls

4 ounces Vermicelli rice noodles
1 small cucumber
1 cup shredded cabbage
8 rice paper wrappers
Handful of fresh basil
1 avocado
Other suggestions: bell pepper, shrimp, tofu, lettuce

For the Sauce

3/4 cup pine nuts
¼ cup Sir Kensington's Garlic Everything Sauce
2 cups basil
2 cloves garlic
¼ cup olive oil
1 teaspoon salt
2 tablespoon nutritional yeast
2 tablespoon lemon juice

Instructions:
Cook the vermicelli noodles according to package instructions.
Meanwhile, prep all the veggies. Slice the cucumber very thin and shred the cabbage.
Add all sauce ingredients to a high speed blender or food process and process until smooth, or leave a few chunks if desired. Taste and adjust seasoning as desired. Transfer to a small dish.
Add the rice paper wrappers to a large shallow bowl of water and soak one at a time for about 1 minute.
Transfer to a dry surface and pat the top of it until dry.
Add the cooked and cooled rice noodles, cucumber, cabbage, a few pieces of fresh basil and sliced avocado to the bottom third of the wrapper.
Roll toward the top and when you get about halfway, tuck the sides in so nothing falls out.
When you get to the top, lightly wet your fingers to seal.