WHOLE-WHEAT SPICED ORANGE MUFFINS
Tuna poke nachos with @cookwithdanaa
Makes: 12 muffins
Prep time: 15 minutes
Cook time: 25 minutes
Total time: 45 minutes
Recipe Note: Dairy Free, 100% whole-wheat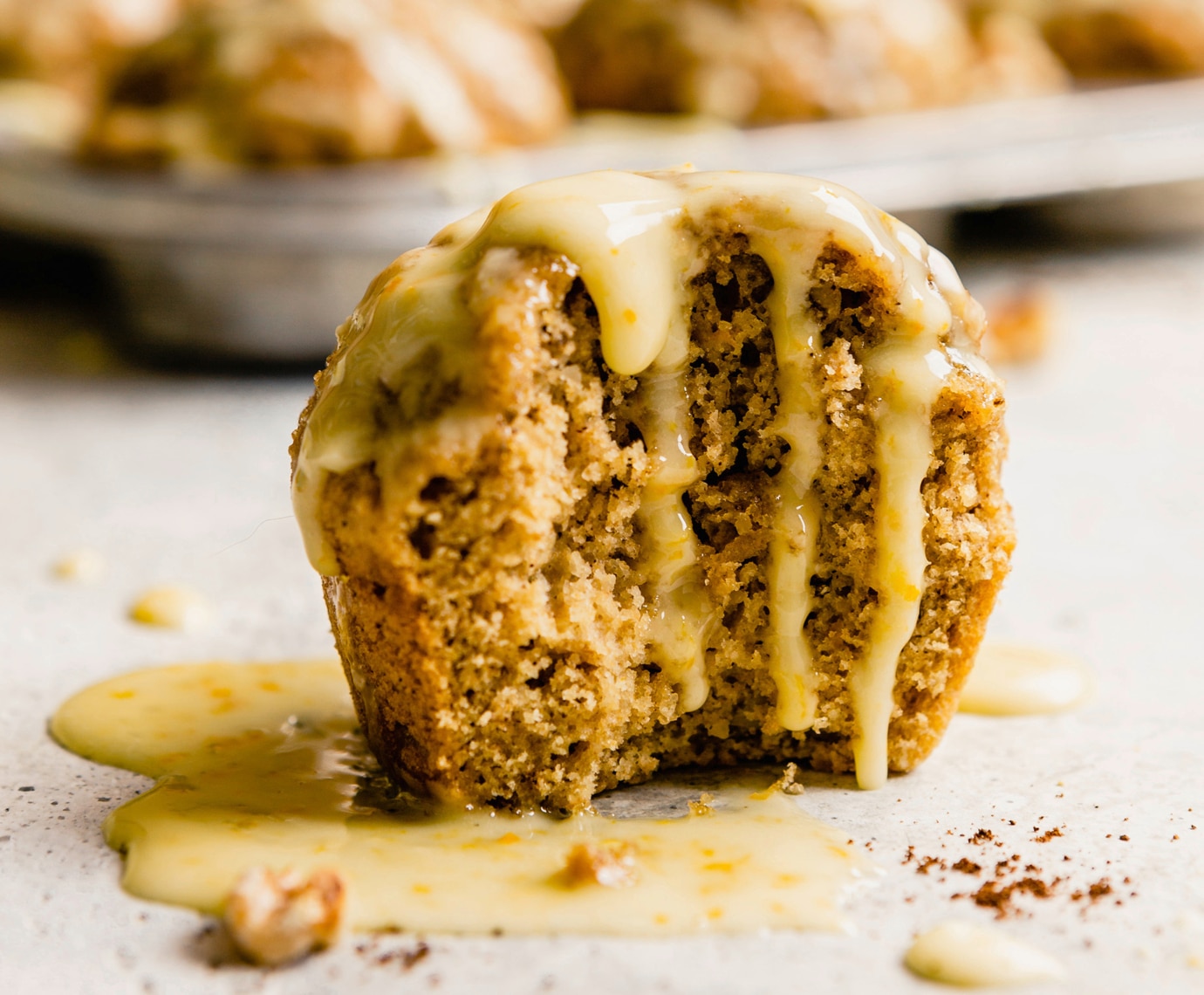 Ingredients:

For the Muffins

2 cups white whole-wheat flour or regular whole-wheat flourq
2 tablespoons cornstarch or arrowroot starch
1 teaspoon baking powder
1 ½ teaspoons ground cinnamon
¾ teaspoon ginger
½ teaspoon baking soda
½ teaspoon kosher salt
¼ teaspoon ground cloves
¼ teaspoon ground nutmeg
1 cup plain unsweetened dairy-free yogurt
⅓ cup Sir Kensington's Avocado Oil Mayonnaise
⅓ cup pure maple syrup
2 eggs
1 tablespoon minced orange zest (from 2–3 oranges)
2 teaspoons pure vanilla extract
¾ cup chopped walnuts or pecans
1 tablespoon turbinado sugar (also called sugar in the raw), for sprinkling on top

For the Glaze (optional)

1 cup confectioners's sugar
1 ½ teaspoons fresh orange juice
1 teaspoon minced orange zest

Instructions:

Heat oven to 425°F. Line a 12-cup muffin tin with cupcake liners (or grease the cups with nonstick spray).
Whisk together flour, cornstarch, baking powder, cinnamon, ginger, baking soda, salt, cloves and nutmeg in a large bowl, set aside.
Whisk together yogurt, mayonnaise, maple syrup, eggs, orange zest, and vanilla until smooth.
Add yogurt mixture to flour mixture and mix until mostly incorporated but some pockets of flour remain.
Fold in nuts just until combined.
Divide batter (it will be thick) between prepared muffin cups, about a heaping ¼ cup per muffin cup. Sprinkle turbinado sugar evenly over cups of batter.
Bake muffins 5 minutes at 425°F then, keeping muffins in oven, reduce oven temperature to 350°F and bake until a toothpick inserted in the centers comes out clean, 14–16 minutes more. Total bake time is about 19–21 minutes.
Transfer muffin tin to a wire rack and cool 5 minutes, then transfer muffins from pan to wire rack to cool completely.
Whisk together confectioners' sugar, orange juice, zest and pinch of salt in small bowl until smooth. Drizzle glaze muffins and let sit until glaze dries, about 15 minutes.
Store cooled muffins at room temperature in an airtight container for up to 2 days, or in the refrigerator for up to 5 days.