Tuna poke nachos with @cookwithdanaa
Makes: 2-4 servings
Recipe Note: Gluten Free, Dairy Free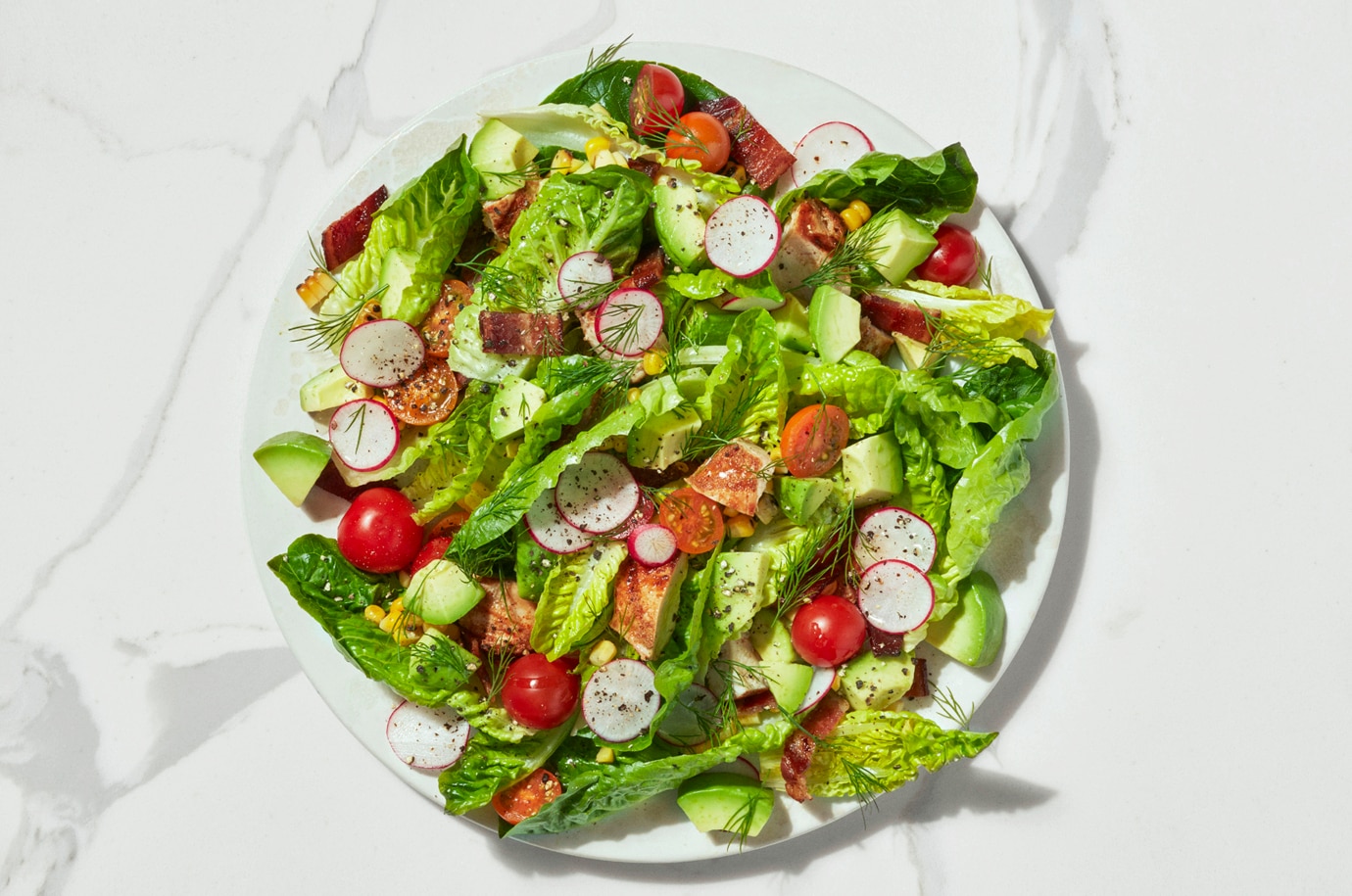 Ingredients:

Little gem lettuce, 4-6 heads
4-6 strips of bacon, cooked & chopped
1-2 ears of corn, husks removed
2 boneless skinless chicken breasts
1 tsp smoked paprika
2 tbsp olive oil
Avocado, diced
Cherry tomatoes, halved
Radish, thinly sliced
Dill sprigs, to garnish
Salt and pepper, to taste
Recommended Dressing: any Sir Kensington's vinaigrette or ranch dressing

Instructions:
Pat the chicken breasts dry and season with salt, pepper and 1 tsp of smoked paprika.
Heat olive oil in a large skillet over medium-high heat until the oil is very hot. Once hot, add chicken breasts and cook undisturbed for 5-7 minutes to allow for even browning. Flip the breasts and repeat on the other side. Depending on the size of the chicken breasts, finish cooking all the way through in an oven set at 350F.
Once cooked, remove from the pan/oven and let cool before dicing into large cubes.
Using a grill or grill pan, cook corn, turning often until cooked and slightly charred all the way around, about 10 minutes. Let the corn cool slightly and remove kernels from the cob.
Rinse the gem lettuce under cold running water, then cut off the end and remove any damaged or wilted leaves.
In a large bowl, add gem lettuce, diced bacon, grilled corn, diced chicken, diced avocado, halved cherry tomatoes. Mix together with Sir Kensington's Vinaigrette and transfer to a serving dish. Garnish with additional coarse ground black pepper and dill sprigs.