LOADED SWEET POTATO NACHOS
Tuna poke nachos with @cookwithdanaa
Makes: 4-6 servings
Prep time: 10 minutes
Cook time: 45 minutes
Total time: 55 minutes
Recipe Note: Gluten Free, Vegetarian Friendly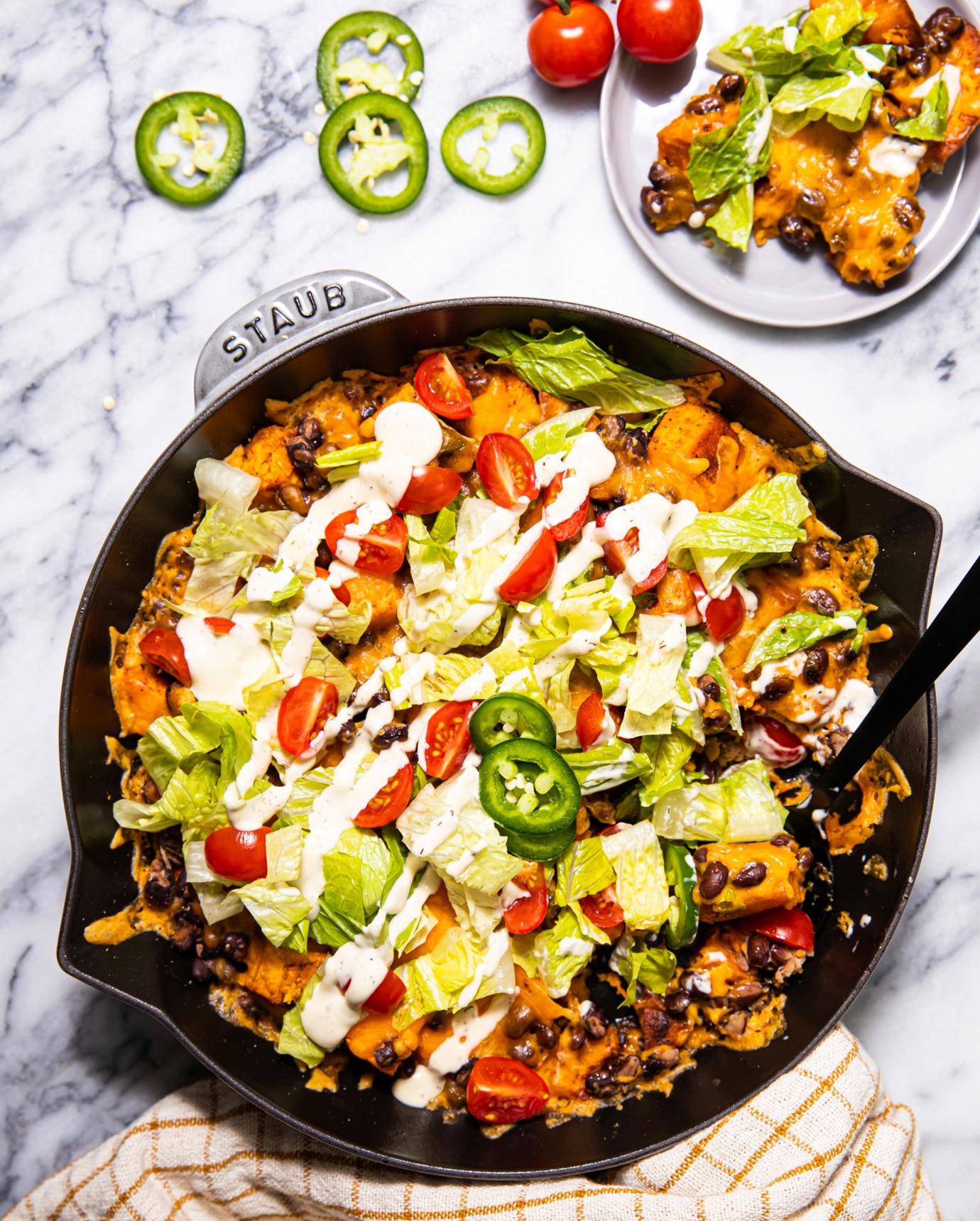 Ingredients:

2 large sweet potatoes, peeled and chopped into quarters
1 ½ tablespoons olive oil
1 teaspoon kosher salt
½ teaspoon freshly ground black pepper
½ teaspoon garlic powder
½ teaspoon ground cumin
½ teaspoon smoked paprika
1 (15 ounce) canned black beans
7 ounces or 2 cups shredded sharp cheddar cheese
1 cup romaine lettuce, chopped
½ cup grape/cherry tomatoes, halved
Sir Kensington's Classic Ranch, for drizzling
Jalapeños for garnish- optional

Instructions:

Preheat the oven to 400°F and line a large baking sheet with foil, parchment paper, or a baking liner and set it aside.
Add sweet potatoes into a large bowl and drizzle in the oil. Season potatoes with salt, pepper, garlic powder, cumin, and paprika. Use a rubber spatula to stir everything together and make sure all sweet potato chunks are coated in seasonings.
Transfer sweet potatoes onto the prepared baking sheet and spread them out.
Bake sweet potatoes for 30 minutes, take the baking sheet out but do not turn off heat.
Transfer the roasted sweet potatoes into an oven-safe skillet or baking vessel. Add black beans evenly on top and sprinkle cheddar cheese. Place the vessel into the oven and bake again for another 15 minutes.
Sprinkle lettuce and tomatoes on top of nachos, drizzle with Sir Kensington's classic ranch, and top with jalapeños, if desired. Serve as is or along with chips, enjoy!