CHEESY CHICKEN QUESADILLA
Tuna poke nachos with @cookwithdanaa
Makes: 3 large quesadillas, 4-6 servings
Prep time: 5 minutes
Cook time: 20 minutes
Total time: 25 minutes
Recipe Note:
Make it Gluten Free

: use corn or gluten-free flour tortillas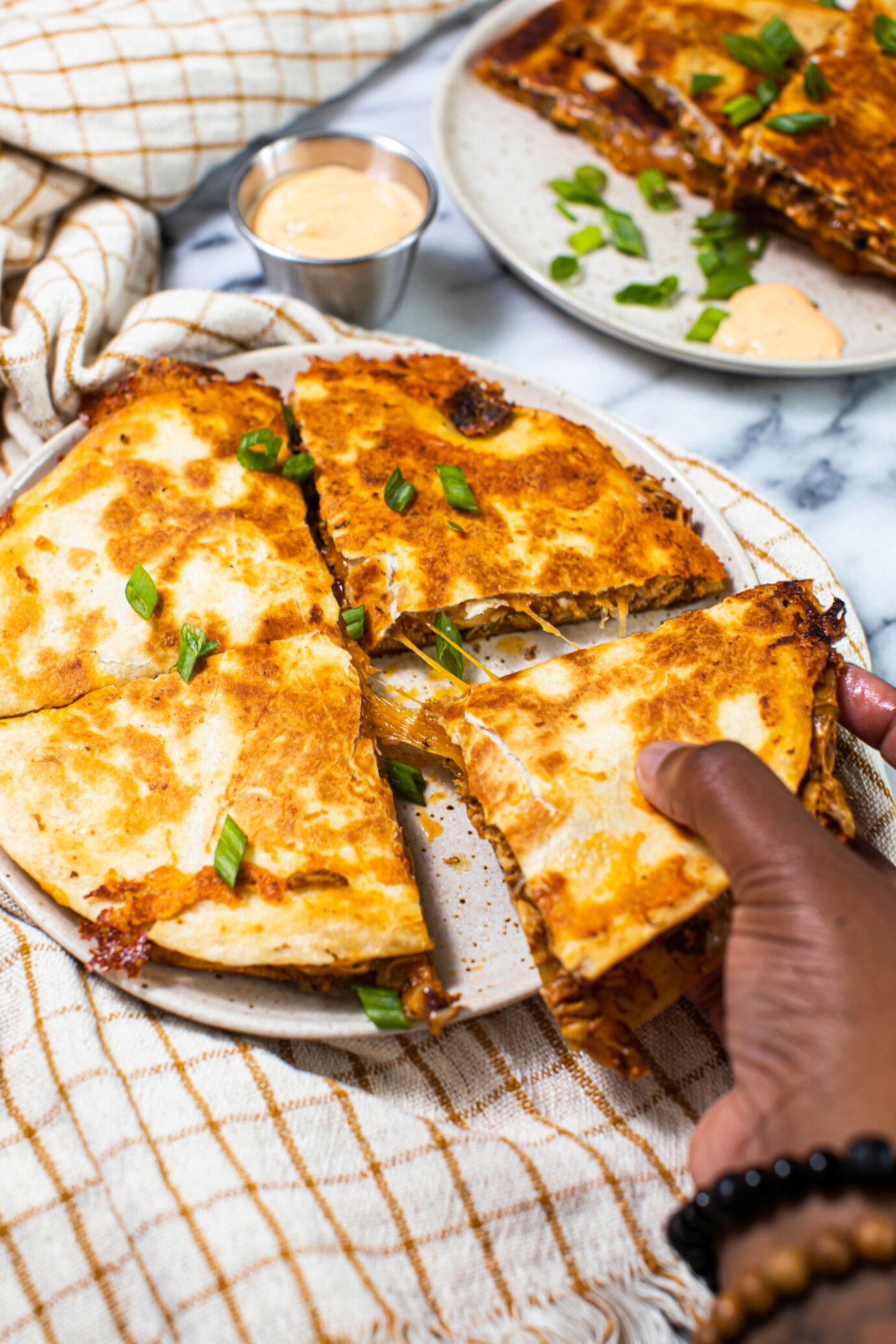 Ingredients:

1 ½ tablespoons olive oil
4 cups cooked and shredded white meat chicken
½ cup chopped white onion
1 green bell pepper, finely chopped
1 packet fajita seasoning
2 tablespoons unsalted butter, plus more if needed
6 (10-inch) large flour tortillas
1 8-ounce bag shredded mozzarella cheese
1 8-ounce bag shredded cheddar cheese
Sir Kensington's Buffalo Ranch, for serving

Instructions:
Heat oil over medium heat in a large skillet. Once oil is hot, add cooked chicken into the skillet along with onions and bell peppers. Stir mixture together and cook until onion becomes translucent and bell peppers are browned, about 4-5 minutes.
Sprinkle in fajita seasoning and continue stirring together until well combined, about 3-4 minutes.
Remove chicken mixture from heat and set aside.
Melt 1 tablespoon of butter over medium heat in a new skillet. Once butter has melted add in one flour tortilla. Sprinkle about ½ cup of mozzarella cheese evenly on top of tortilla. Then top cheese with about 1 cup of chicken mixture, and spread evenly. Next, sprinkle about ½ cup of cheddar cheese on top of chicken mixture. Lastly, add another tortilla on top and lightly press to form a quesadilla.
Let cook until lightly browned, crispy, and you begin to see cheese melting, about 1-2 minutes. Using a spatula, carefully flip the quesadilla to cook on the other side.
Repeat steps until all quesadillas are formed. Use more butter as needed.
Cut quesadillas into four quarters and serve with Sir Kensington's Buffalo Ranch.