BUFFALO CAULIFLOWER 'WINGS'
Tuna poke nachos with @cookwithdanaa
Makes: 4 servings
Prep time: 10 minutes
Cook time: 35 minutes
Total time: 45 minutes
Recipe note: Keto Friendly, Paleo Friendly, Grain Free, Gluten Free, Dairy Free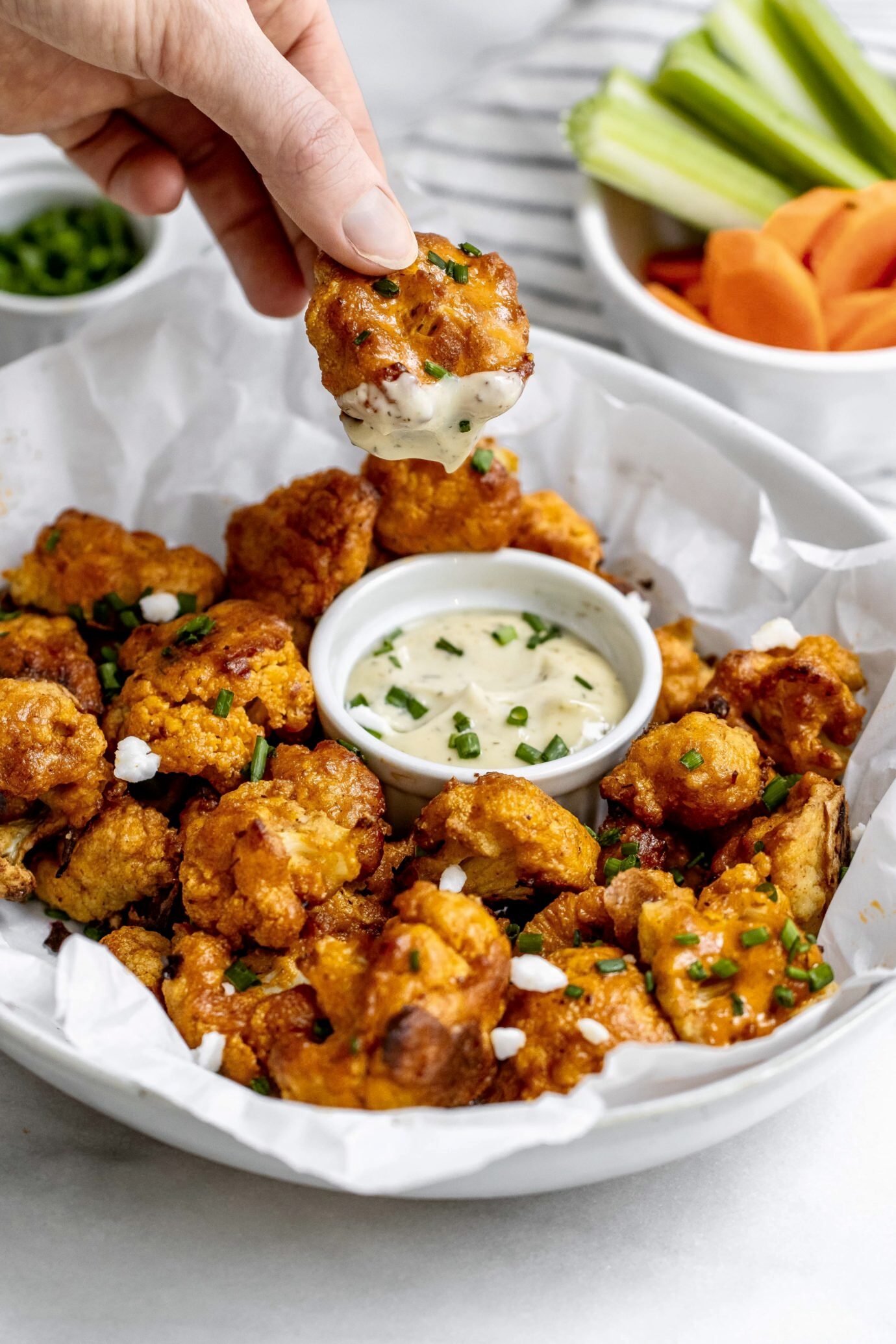 Ingredients:

For Cauliflower 'Wings'
1 egg
2/3 cup almond milk (can sub for water)
2/3 cup blanched almond flour
1 tablespoon arrowroot powder
1 teaspoon salt
1 teaspoon garlic powder
1 teaspoon onion powder
1 teaspoon paprika
1 large head cauliflower (6 cups chopped into medium sized florets)

For Sauce
¼ cup Sir Kensington's Buffalo Ranch
2 tablespoons avocado oil
1/3 cup hot sauce

Instructions:

Preheat the oven to 450°F.
In a medium bowl, whisk together the egg and almond milk. Add the almond flour, arrowroot powder, salt, garlic powder, onion powder and paprika. Whisk until no clumps remain.
Add chopped cauliflower to a large mixing bowl and pour the batter on top. Toss until every piece is well coated. Alternatively, add the batter and the cauliflower to a large plastic bag and shake until well coated.
Add to a baking sheet lined with parchment paper. If there is any leftover batter in the bowl, brush it on top of any pieces that need it. Bake for 25 minutes.
Meanwhile, whisk together the buffalo ranch, oil and hot sauce.
After 25 minutes, remove the cauliflower from the oven and brush half of the hot sauce mixture on top.
Add back to the oven for 10-15 more minutes. If you want the tops to get really crispy, you can broil the cauliflower on high for a few minutes, but watch it very carefully because it can burn quickly!
Once done, brush the remaining hot sauce mixture on all sides of the cauliflower. Sprinkle with chopped chives and serve with Sir Kensington's Classic Ranch to dip.