Tuna poke nachos with @cookwithdanaa
Makes: 4 servings as an appetizer, 2 servings as a main dish
Prep time: 20 minutes
Cook time: 20 minutes
Total time: 40 minutes
Recipe note: Keto Friendly. To make it Paleo friendly, swap out the parmesan for nutritional yeast instead.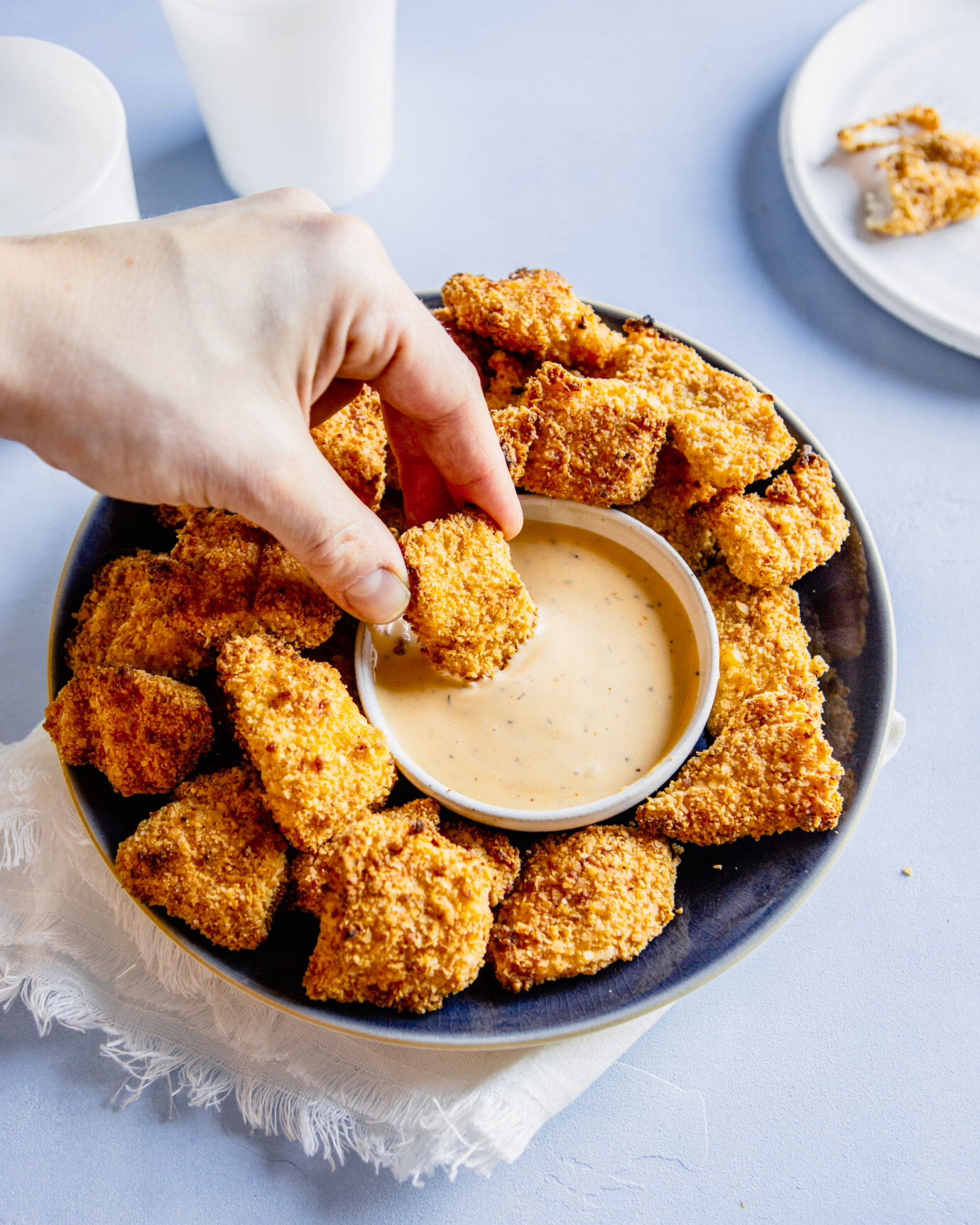 Ingredients:

2 eggs
1½ teaspoons salt, divided
2 cups unsweetened shredded coconut
½ cup almond flour
¼ cup grated Parmesan
½ teaspoon garlic powder
½ teaspoon onion powder
½ teaspoon smoked paprika
¼ teaspoon cayenne pepper
1 pound chicken tenders, cut into 2-inch pieces
½ cup Sir Kensington's Buffalo Ranch

Instructions:

Preheat oven to 400°F with racks set in both middle position and top position. Set a wire rack inside a baking sheet; coat rack with nonstick spray.
In a shallow bowl, beat eggs and ½ teaspoon salt together.
In a mini food processor, pulse together coconut, almond flour, Parmesan, remaining 1 teaspoon salt, garlic powder, onion powder, paprika and cayenne pepper until coconut is finely ground. Transfer coconut mixture to a second shallow dish.
Dip a piece of chicken in egg to coat, let excess drip off, then dip in coconut mixture, turning and pressing to coat. Place breaded chicken on prepared baking sheet; repeat with remaining chicken pieces.
Lightly spray breaded chicken with cooking spray.
Bake chicken on middle rack for 10 minutes. Turn broiler on low, transfer baking sheet to top rack and broil until golden brown and crisp, 8–12 minutes more, flipping chicken pieces halfway through to ensure even browning.